Dogs
History and Standards
Available Dogs
Puppies
Health Records
Groenendael
Chittaprasad Jairam du Volant
Tervuren
Aanandi
"Pinkie" Ashwini
"Devi" Bhagavathi
Carmella
Dior
Dru
Gabbit
Jahnu
"Savannah"
Tervuren (Co-owned)
"Radha" Cantata
"Brodie" Bajrang
Christa

Rescues
Kylie's Shambhavi Rose
Litters
Basquelaine 'A' of Intention Hill
'B' of Intention Hill
'C' of Intention Hill
'D' of Intention Hill
'E' of Intention Hill
'F' of Intention Hill
Intentions
Litter Plans
Healthcare & Research
Cancer (Artemisinin and Other Info)
Raw Feeding
Vaccinations
Early Spay & Neuter
Parasites & Remedies

Training
SAR Articles
Recommended Reading
Accomplished Belgians
Resources

©2018 Tracy Wessel
Intention Hill


Promote Your Page Too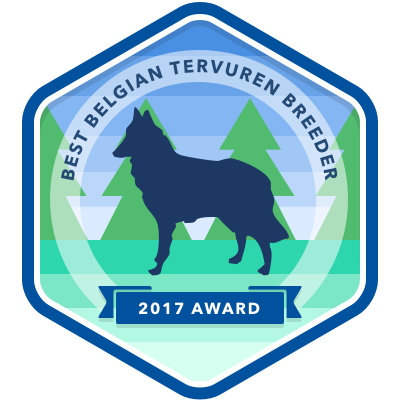 Website Award
Vetary has analyzed top Belgian Tervuren breeders and cross referenced positive social mention data with top analytics platforms. Your site was a clear winner with U.S. pet owners over the last 12 months. For context, Vetary awards breeders with best-in-class online buzz, content, visuals, and most importantly, a strong cause and devotion toward their breed of dogs.
'B' of Intention Hill, Litter #DN382965
Gabbit Elmar Slovakia x SAR Cert Basquelaine Cat On The Scent "Savannah"
Puppies whelped October 2nd, 2013
2 girls, 4 boys, all fawn or red
Updates will be posted to this Facebook Page.
Contact Tracy Wessel
for information about this litter.
"Gabbit"
Gabbit Elmar Slovakia (pending OFA clearances)
(click here for more info about Gabbit)

Int'l Ch Prot Deabei, IPO3
x
CACIB Karla z Polytanu (Police Patrol)

Color: Mahagony
Weight: 55lbs (approx)
Height: 23+ inches
AKC Number: DN32236502
DNA (AKC): V713572
DOB: 06/12/11
OFA: Baer +/+, BT-5879G25M-VPI (Hips, Good),
BT-EL3096M25-VPI (Elbows, Normal)
CERF: Normal/Clear 2012, 2013, 2015 (PANNUS), 2016 (Pannus)
DNA: V713572

SAR (Cert 2008, 2009, 2010)
"Savannah"
Basquelaine Cat On The Scent
(click here for more info about Savannah)

Am/Can Ch SAR Cert Gaelera BigMtn Breeneraine
x
Ch Hexen House Iserah)

Color: Fawn
Weight: 42lbs
Height: 22 in.
AKC Number: DN18504001
DOB: 04/07/07
OFA: BT-5460G45F-VPI HIPS GOOD | BT-EL2695F45-VPI ELBOW NORMAL
CERF: Clear 2011, 2012, 2013, 2015, 2016
More about this litter (edited May 2016)
I chose to import Gabbit for both his working potential, and for the gift he brings to Tervuren with his Malinois side. When one reviews Belgian Shepherd pedigrees, it is clear the gene pool is not tremendous. It is also difficult to find dogs bred for herding and SAR work which are not so intense in prey drive, as is often seen in dogs bred for Law Enforcement or protection sports, but having proven drives and stamina for the work required of SAR and ranch work. For this reason, I loved Gabbit's pedigree.
His mother is a police patrol dog with the Slovakian Police, and is a Tervuren from Malinois parents and ancestors. Her sire is Crog vom Further Moor, who goes back to the famous Stoned van Duvetorre, and Atos. Her mother is Yndy z Polytanu, a full sister to famed Ynka z Polytanu, IPO3 Fin. (http://www.working-dog.eu/dogs-details/10000/Ynka-z-Polytanu) (WP 98 Pt., IPO 3 fin. FCI 08'26., VDH-DM 06'12. 07'12. 08'3., dhv-DM 06'33., WM-BB 07'6. 06'23. 09'17., sel. DMC 06'5. 07'2. 08'3. 09'12. 10'13. , BLV 06'5, DMC 03/219). Anne Weitz-Heeland described Ynka as the most famous Malinois ever in Germany. Karla herself is described as social, but controlling, and not hectic. She is strong in defense, has excellent agility and full grips. Video of her in training available upon request, or can be found through Kennel Deabei on YouTube. No known epilepsy in her puppies or close relatives (information has been harder to find on her, but the lines are quite well known).
Gabbit's sire is International Champion Prot Deabei, IPO3. His owner/breeder describes him and his mother as aloof, strong in tracking and sufficient in defense. He is highly biddable and handler focused. His progeny seem to often have this same social outlook: charming and friendly enough, but not seeking the attention of those outside the home, excellent work ethic. To date, all Prot offspring are seizure free (oldest are 3 years old). He has an excellent record for hips, elbows, eyes, correct testicles and spondylosis free progeny. Video of Prot training is available upon request, or can be found through Kennel Deabei on YouTube. His progeny health records are also available on the Deabei website. It is unfortunate that this side of the pedigree represents a higher than average risk for cancers. I did not have this knowledge at the time of purchase, as I think many breeders are just beginning to piece together some lines that are exhibiting higher than average outcomes for cancer. Breeders that have contributed to this knowledge through data sharing include Of Dark Brightness and Grimmendans. To date, Prot has lost his brother Pjotr to bone cancer, and his sister Putee to stomach cancer, both under the age of 9. Prot's mother Delphine died at 9 of a pelvic tumor, presumedly bone cancer. His father died at 10 of stomach cancer. It is for this reason that I will choose to sit on semen from Gabbit and his sons, potentially for many years. I may not ever choose to use it, but I can't have that choice if I do not collect them.
I do have another reason for choosing to apply deep consideration to the forward movement of offspring from this litter, and that is character. Savannah, her siblings and offspring from the A litter are social and friendly dogs. While not all dogs will live to be highly social, some problems appeared in the B Litter which may have exhibited differently with more experienced homes, but present as something to consider deeply before breeding, or breeding only with understanding that very experienced homes are required. Makani (Yellow Girl) from this litter, while highly trainable and well socialized, confident and stable for off leash hiking, off leash agility training, and things of this nature, is not receptive to strangers on general terms. She has a propencity for being snappy if people advance to pet her without her approval. Freya (Green Girl) is said to be dog aggressive, but the owner states she loves people. She does have very high prey drive also, and has to be watched with young children, which are now also a part of her home. Thor (Orange Boy) has been highly social and confident and friendly through his life, but during an ear infection, a person pet him and caused some pain. That became a turning point for him, and he has been somewhat snappy since then. This propensity for defense of space is one which can become a very ugly thing if not properly managed.
That said I cannot take away from the exemplary athleticism, biddability and trainability of the B Litter. They have a high level of stamina and heat tolerance, and strong drive to work. This is important, and might be a necessary ingredient to lines periodically.
Gabbit brings many things to the table:
- an outcross and intervariety pedigree into lines with proven results
- renowned and well-respected working and sports malinois ancestry
- proven working, sports and show tervuren ancestry
- excellent color and charbonnage
- natural tolerance to heat and cold weather conditions
- excellent health history of his malinois ancestors
- extreme athleticism, excellent functional structure
- intense toy drive
- strong biddability
Gabbit himself was in some ways disappointing in character. Despite extensive public exposure with me, where he has most often been self contained and polite, he does have to be watched in regards to my personal space. He can be nippy if people crowd my space, and in public spaces, if he is not tasked with something to do, he can be very nervous. Having a focused task is very important to Gabbit. Once he has that, he is a rock star. He has performed in crowded stadiums at sporting events (baseball games) in disc dog. He has been to crowded dog shows. He has begun training in earnest in herding. He performs ranch chores with little instruction. I had hoped to do protection sports with him, but he did not present a desire to engage with a decoy, nor the confidence to make it a wise choice. His most intense desire is retrieve. Gabbit is extremely agile, has strong focus, and is naturally defensive of my home and property. He also enjoys skijoring with me. His character is similar to that of his brother Gaspar.
Jean Matushek met Gabbit at the ABTC 2013 National Specialty. I brought him along for the ride. She had this to say about him:
"I'm still so impressed with the young man! At an age where many people would be lamenting the frustrations of owning an intact male, Gabbit demonstrated true Terv character. From our standard: "In his relationship with humans he is observant and vigilant with strangers, but not apprehensive. He does not show fear or shyness. He does not show viciousness by unwarranted or unprovoked attack. He must be approachable, standing his ground and showing confidence to meet overtures without himself making them. With those he knows well, he is most affectionate and friendly, zealous for their attention and very possessive." That's Gabbit! Thank you so much for bringing him to Portland!"
The dam of this litter is "Savannah," Basquelaine Cat On The Scent. This was her second litter. Savannah is my SAR dog, and certified in Wilderness Area Search in 2008 and 2010 with Oregon State Sheriff's Association. She certified in Area Search and Basic Cadaver with International Police Working Dog Association in 2009. She recently recertified with NSDA for area and large area cadaver. She did this at the very beginning of her pregnancy with the D Litter. She had her first litter in 2011, and competed in her first herding event at ABTC National Specialty 2013 in May, earning the first leg of PT. Savanna's full siblings are in pet homes, agility homes and SAR homes. Her half siblings also perform in SAR, herding, agility, obedience, dock diving and are also pets. Her littermates, mother, sire, and all but one half siblings are seizure free, and all but one, to my knowledge, has clearances for hips and elbows. Savannah has one sister diagnosed with bone cancer in 2016.
Savannah brings to the table:
- Proven working ability for SAR and herding
- Sibling/ancestor proven sports ability for agility, herding, detection, tracking, SAR, therapy work
- highly social temperament
- excellent family record of good hips and elbows
- strong handler focus, highly biddable
- intense toy drive
Savannah's first litter, the Basquelaine A of Intention Hill Litter, was whelped June 19, 2011. OFA xrays have been performed on 4 of her first litter offspring, and are read as good to excellent (official results pending, xrays taken 7/15). All eight puppies were BAER tested +/+, and all but one are seizure free, and all but one CERF clear. One puppy has pannus occurring within 30 days post rabies vaccine. No other symptoms of immunological disorder have been expressed in that puppy. He is treated with Tacrilomus and Inflapotion.