Dogs
History and Standards
Available Dogs
Puppies
Health Records
Groenendael
Chittaprasad Jairam du Volant
Tervuren
Aanandi
"Pinkie" Ashwini
"Devi" Bhagavathi
Carmella
Dior
Dru
Gabbit
Jahnu
"Savannah"
Tervuren (Co-owned)
"Radha" Cantata
"Brodie" Bajrang
Christa

Rescues
Kylie's Shambhavi Rose
Litters
Basquelaine 'A' of Intention Hill
'B' of Intention Hill
'C' of Intention Hill
'D' of Intention Hill
'E' of Intention Hill
'F' of Intention Hill
Intentions
Litter Plans
Healthcare & Research
Cancer (Artemisinin and Other Info)
Raw Feeding
Vaccinations
Early Spay & Neuter
Parasites & Remedies

Training
SAR Articles
Recommended Reading
Accomplished Belgians
Resources

©2018 Tracy Wessel
Intention Hill


Promote Your Page Too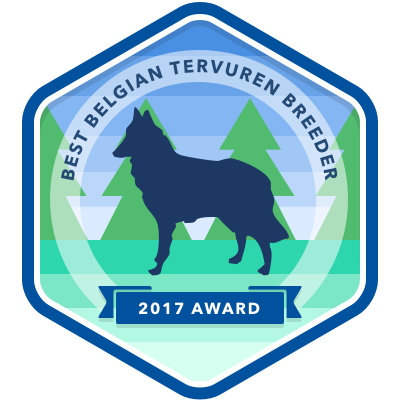 Website Award
Vetary has analyzed top Belgian Tervuren breeders and cross referenced positive social mention data with top analytics platforms. Your site was a clear winner with U.S. pet owners over the last 12 months. For context, Vetary awards breeders with best-in-class online buzz, content, visuals, and most importantly, a strong cause and devotion toward their breed of dogs.
"Pinkie"
Basquelaine Ashwini of Intention Hill, CGC, RA, SAR (HRD)
Spayed Bitch
Location: Washington
Trains in obedience & agility
Owner: Tracy Wessel

Color: Red/Mahogany
Weight:
Height:
AKC Number: DN31923104
DOB: 06/19/11
OFA: Baer +/+, BT-5881E24F-VPI, BT-EL3098F24-VPI
CERF: Normal
Pinkie is the Pink Girl from the Basquelaine 'A' of Intention Hill litter, a co-breeding by Kelley Hoffman of Basquelaine and Tracy Wessel of Intention Hill. Pinkie has remained with me at Intention Hill, and is the first dog I've competed in Rally and Obedience with. We've done a small amount of training in Agility, and I hope to continue to learn this sport with her. In October 2016, I started Pinkie in HRD training. I had hoped to train her for Conservation, but the team I was trying to form with colleagues lost impulse do to the difficulties of finding consistent contracts. Pinkie is doing well in her HRD training, and is very detail oriented.
Pinkie is remarkably intelligent, and very Border Collie-like in her presentation. She does everything with fast movements, and is fairly hectic. She has a very high retention of things she's learned, and learns very fast. She has a love of toys and games, a love of running, and moderate prey drive. She is very soft. She has a very fine coat, and not much undercoat. Pinkie is a lover of all people, and both gentle and affectionate. She occasionally helps me with farm chores, and is safe around lambs and chickens, with supervision.
Click here to view her full pedigree on Working-Dog.eu.
Health Record

| | |
| --- | --- |
| BAER | +/+ |
| Testicles | n/a |
| Hips | Excellent |
| Elbows | Normal |
| CERF | Normal/Clear |
| Bite | Scissors |
| Dentition | Full Scissors |
| Other | Parvo, 6 months of age, sick 5 days, full recovery |

Pinkie's Resume

Sport
Date
Trial
Results
Comments
Foundation
CGC
Rally
4/18/2015
Palouse Hills Dog Fanciers
RN-A Leg 1, 87.0
3rd place
5/22/2015
Spokane Kennel Club
RN-A Leg 2, 95.0
4th place
5/23/2015
Spokane Kennel Club
RN-A leg 3, 79.0
5th place
8/21-2015
Evergreen Belgian Tervuren Club
RA-A Leg 1, 93.0
1st place
8/22/2015
Evergreen Belgian Tervuren Club
RA-A Leg 2, 93.0
1st place
5/27/2016
Spokane Kennel Club
RA-A Leg 3, 94.0
1st place
Obedience
10/2/2016
Columbia Basin Dog Training Club
Novice A Leg 1, 188.0
1st place
SAR
11/10/2017
IPWDA
Land HRD Cert
First SAR Cert