Dogs
History and Standards
Available Dogs
Puppies
Health Records
Groenendael
Chittaprasad Jairam du Volant
Tervuren
Aanandi
"Pinkie" Ashwini
"Devi" Bhagavathi
Carmella
Dior
Dru
Gabbit
Jahnu
"Savannah"
Tervuren (Co-owned)
"Radha" Cantata
"Brodie" Bajrang
Christa

Rescues
Kylie's Shambhavi Rose
Litters
Basquelaine 'A' of Intention Hill
'B' of Intention Hill
'C' of Intention Hill
'D' of Intention Hill
'E' of Intention Hill
'F' of Intention Hill
Intentions
Litter Plans
Healthcare & Research
Cancer (Artemisinin and Other Info)
Raw Feeding
Vaccinations
Early Spay & Neuter
Parasites & Remedies

Training
SAR Articles
Recommended Reading
Accomplished Belgians
Resources

©2018 Tracy Wessel
Intention Hill


Promote Your Page Too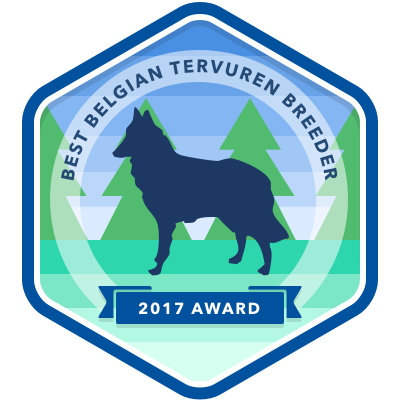 Website Award
Vetary has analyzed top Belgian Tervuren breeders and cross referenced positive social mention data with top analytics platforms. Your site was a clear winner with U.S. pet owners over the last 12 months. For context, Vetary awards breeders with best-in-class online buzz, content, visuals, and most importantly, a strong cause and devotion toward their breed of dogs.
Jahnu du Domaine de Vauroux
Location: Washington
Trains in Obedience and Herding

Color: Red/Mahogany
Weight:
Height:
French Registry Number: LOF 258447
AKC Number: DN42953201
DOB: October 15, 2014
OFA: BT-6658G46M-VPI (Good Hips), BT-EL3828M46-VPI (Normal Elbows)
CERF:
Teeth: Full Dentition, Scissors

Jahnu has come to me from Evy Monnereau of Kennel du Domaine de Vauroux. I had been watching her kennel quietly because of an interest in a wonderful dog MR3 titled, but coming out of her combined show and working lines, and also being bred back into her program. That same dog is also a conformation champion with high breed ratings. I wasn't specifically looking for a new puppy at the time of obtaining Jahnu, but Kelley Hoffman showed me a litter of interest. When that litter fell through, we began to look at another - and so it was, I very much wanted Jahnu. A consistent outcome for Evy's kennel are dog with extremely stable characters, dogs that can go from the kennel to the dog show. She also has a very low percentage of health problems in dogs from her kennel.
Jahnu brings a different body type and different drives for me. He is a substantial boy, with lots of substance. While my other Belgians are light on their feet and extremely agile, Jahnu is a big boy, and moves like a big warmblood dressage horse. His drives have developed slowly, while my other dogs have been born as little "sharks," demonstrating early tug and retrieve drives. Jahnu's have been slower, to come, but they are there. He has high very high prey drive, but is high biddability when working sheep with me. He is not good with small animals , nor unattended around livestock.
Jahnu is stable with no environmental sensitivities, and is social, and highly compatible to my life. I look for great things from him! I am so very grateful for this boy!
Click here to view Jahnu's full pedigree on Working-Dog.eu.