Dogs
History and Standards
Available Dogs
Puppies
Health Records
Groenendael
Chittaprasad Jairam du Volant
Tervuren
Aanandi
"Pinkie" Ashwini
"Devi" Bhagavathi
Carmella
Dior
Dru
Gabbit
Jahnu
"Savannah"
Tervuren (Co-owned)
"Radha" Cantata
"Brodie" Bajrang
Christa

Rescues
Kylie's Shambhavi Rose
Litters
Basquelaine 'A' of Intention Hill
'B' of Intention Hill
'C' of Intention Hill
'D' of Intention Hill
'E' of Intention Hill
'F' of Intention Hill
Intentions
Litter Plans
Healthcare & Research
Cancer (Artemisinin and Other Info)
Raw Feeding
Vaccinations
Early Spay & Neuter
Parasites & Remedies

Training
SAR Articles
Recommended Reading
Accomplished Belgians
Resources

©2018 Tracy Wessel
Intention Hill


Promote Your Page Too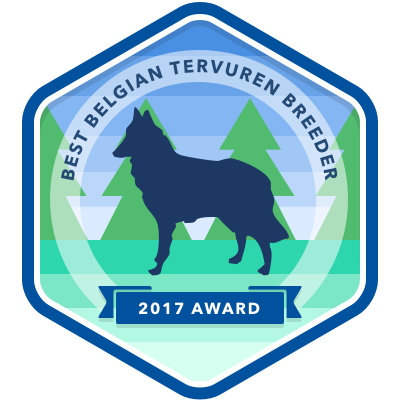 Website Award
Vetary has analyzed top Belgian Tervuren breeders and cross referenced positive social mention data with top analytics platforms. Your site was a clear winner with U.S. pet owners over the last 12 months. For context, Vetary awards breeders with best-in-class online buzz, content, visuals, and most importantly, a strong cause and devotion toward their breed of dogs.
"Brodie" Bajrang of Intention Hill, SAR-W
Gail Collins, Aaron Collins, Tracy Wessel
Color: Red
Weight:
Height:
AKC Number:
DOB: October 2, 2013
OFA: BT-6349G34M-VPI HIPS GOOD, BT-EL3527M34-VPI ELBOWS NORMAL, BT-TH914/34M-VPI Thyroid Normal
CERF: Normal, 2015
Teeth: scissors bite
Testicles: 2
"Brodie" Bajrang is SAR certified with Lake County Search and Rescue, and California Oregon Regional Search and Rescue (CORSAR) with his owner-handler. He has had multiple deployments, earning him the AKC recognition of SAR-W. He is a very focused and driven search dog.
Brodie is a fine combination of both parents, with a strong desire to work, enough beligerence to desire to continue past weather, terrain, logistical delays and other elements that make search and rescue a challenge. He is polite and tolerant of people, not seeking overtures, but accepts petting and attention from strangers with dignity. In appearance, he is a striking resemblance of cousins on his maternal grandsire's (Brenner) side.
Brodie is avaialble for stud to approved bitches, on a limited basis. Contact Tracy at tracy@intentionhill.com for more information.