Dogs
History and Standards
Available Dogs
Puppies
Health Records
Groenendael
Chittaprasad Jairam du Volant
Tervuren
Aanandi
"Pinkie" Ashwini
"Devi" Bhagavathi
Carmella
Dior
Dru
Gabbit
Jahnu
"Savannah"
Tervuren (Co-owned)
"Radha" Cantata
"Brodie" Bajrang
Christa

Rescues
Kylie's Shambhavi Rose
Litters
Basquelaine 'A' of Intention Hill
'B' of Intention Hill
'C' of Intention Hill
'D' of Intention Hill
'E' of Intention Hill
'F' of Intention Hill
Intentions
Litter Plans
Healthcare & Research
Cancer (Artemisinin and Other Info)
Raw Feeding
Vaccinations
Early Spay & Neuter
Parasites & Remedies

Training
SAR Articles
Recommended Reading
Accomplished Belgians
Resources

©2018 Tracy Wessel
Intention Hill


Promote Your Page Too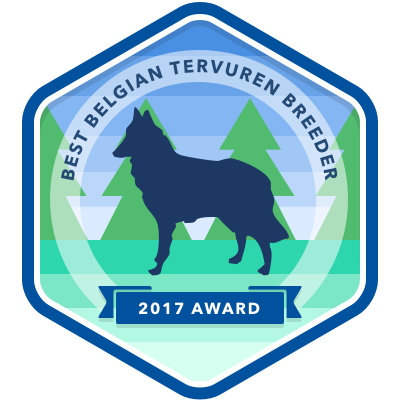 Website Award
Vetary has analyzed top Belgian Tervuren breeders and cross referenced positive social mention data with top analytics platforms. Your site was a clear winner with U.S. pet owners over the last 12 months. For context, Vetary awards breeders with best-in-class online buzz, content, visuals, and most importantly, a strong cause and devotion toward their breed of dogs.
'C' of Intention Hill

Whelped October 29, 2015, 5:01 am
Updates will be posted to this Facebook Page.
Contact Tracy Wessel
for information about this litter.
"Chase"
GCH Arlequin In Hot Pursuit
(click here for more info about Chase)

Ch Blackfyre Absolutely Wyld
x
Ch Bonheurs Crime Spree, CD HS NA CBAR

Color: Fawn
Weight:
Height:25 inches
AKC Number: DL896381/01
DNA (AKC):
DOB: 09/12/2001
OFA: BT-4321E40M-PI (Hips, Good),
BT-EL1656M40-PI (Elbows, Normal)
BT-2888/03-20
BT-TH145/35M-PI
CERF: Normal/Clear

"Aanandi"
Basquelaine Aanandi of Intention Hill
(click here for more info about Aanandi)

Matti Deabei
x
Basquelaine Cat On The Scent, SAR

Color: Grey/Creme
Weight: 54lbs
Height: 23.5 in.
AKC Number: DN319231/03
DOB: 06/19/11
OFA: BT-5877G24F-VPI HIPS GOOD
BT-EL3094F24-VPI ELBOW NORMAL
BT-TH845/49F-VPI THYROID NORMAL
CERF/CAER: Clear 2012, 2013, 2015
More about this litter:
I am so pleased to announce the C litter of Intention Hill. The much anticipated plans for Basquelaine Aanandi of Intention Hill have taken some twists and turns to arrive at precisely the right place – Aanandi has been bred via frozen AI to "Chase" GCh Arelquin In Hot Pursuit (8/29/15). Chase brings proven longevity, consistency in health, character, attentive biddability, lovely structure, coat texture and charbonnage. Like Aanandi, Chase has lovely rewardable behaviors, with a passion for fetching. Aanandi also loves bitework games, and has a calm, steady grip. Both dogs have moderate to high prey drive. Both dogs have considerable substance and bone. Chase has produced some very elegant offspring, and Aanandi has siblings and relatives with considerable elegance. Given the nature of outcrosses behind her, I would expect variety in the litter. That said, there are some common dogs in the combined pedigree consistent for producing excellent working drives.

I looked at many options for Aanandi. It was so hard to imagine the dog who encompassed all things. But the more I learned about Chase and his family, the more I realized that in fact he does bring so much that I was seeking, and in fact, is precisely the dog I need for Aanandi's first litter. I am tremendously excited about this combination, and expect dogs of steady character, excellent focus and drives, and correct breed type. I'm so very grateful to his owner, Glenda Flick, and to Karyn Cowdrey for recommending and approving of this combination. I have written a paper with deeper details about Chase. This is an ongoing work, and demonstrates how deeply I research pedigrees, not only for health, but for the results of character, working drives, and proven results in working efforts, performance, showing and service. To read this paper, which will continue to evolve, please click here.
Aanandi's Health clearances are here with the exception of her CERF and BAER results - I have the paper results available.I had hoped to BAER test the puppies of the C Litter, but there wasn't an available testing outlet. I will see if puppies can be tested in their future, but all appear to demonstrate hearing in both ears. Because Aanandi's grandmother was unilaterally deaf, we will try to always test when possible, all of her offspring and grandget. Chase's Health clearances are here.
GCh Arlequin in Hot Pursuit
Ch Blackfyre Absolutely Wyld
Ch Arlequin Cajun Blackfyre
Ch Moorslede Golden Touch, CD NA CBAR
Ch Belamba Paramour
Ch Bonheurs Crime Spree CD HS NA CBAR
Opium Van De Hoge Laer at Corsini
Charbonny Hedda
Ch Bonheurs Crime Spree, CD HS NA CBAR
Ch Moorslede Golden Touch, CD NA CBAR
Ferry de la Douce Plaine
Whyalla Golden Sunset of Limburg
Ch Bonheur Wish Come True
Ch Bonheur Star Treader, CDX TD CBAR
Zahara Khasmin de Loup Noir
Basquelaine Aanandi of Intention Hill
Matti Deabei
Domburg Dressed to Impress at Talamo
Bergerac Blue Knight
Bergerac Sweet Talk
Anee Oridix
Oural de la Fureur du Crepuscule
Ottira de la Prairie de la Sommerau
Basquelaine Cat On The Scent, SAR
Ch Gaelera BigMtn Brennerain, SAR
Ch Bergerac Brigadoon, PT
Klaar Perfect Gaelera
Hexen House Iserah
Loucky de la Maison du Bois
Tchai van de Hoge Laer
Influence of the Sire
- an outcross to lovely Great British lines,
- proven longevity, consistent results for good health and fertility
- proven consistency of character, structure, proper coat through generations
- lovely drives for SAR, herding and sports
- dogs of great focus, enthusiasm, energy and biddability
- excellent charbonnage and pigment
Accomplishments
Tracy and Glen Harris, Tracy Wessel
Anacortes, WA - Agility, Obedience, Tracking, Herding

Health Clearances:

Note: Dropped pasterns


AKC Rally Novice:
1 leg completed, 2018

Harriet Collier, Tracy Wessel
Libby, MT - Conformation, Herding

Health Clearances: 2016 Eyes Normal

5/29/2016 Spokane Kennel Club BOS/WB 2pts Puppy Bitches 6-9 months

Tracy Wessel
Eastern Washington - Tracking, Herding, Conformation

Health Clearances:

NSDA Water HRD SAR Certification, 12/10/2017, IPWDA HRD Land 2019

AKC Beginner Novice Title:
2018

AKC Rally Novice Title:
2018

AKC Pointed

Liz Beaumont
Shropshire, England - SAR, Tracking, Obedience, Herding, Conformation

Health Clearances:

Obedience:
CGC (UK) Bronze, Nov 28, 2018

UKC Scentwork:
Level 2:
1st Chandra -
Sunday 13th Jan 2019,

3rd Chandra – 99.25
Sat 24th Nov 2018, Erdington
Judges - Dolores Palmer & Faye Sparkes

Level 1:
September 2018 Level 1 Completion