Dogs
History and Standards
Available Dogs
Puppies
Health Records
Groenendael
Chittaprasad Jairam du Volant
Tervuren
"Savannah"
Gabbit
Aanandi
"Pinkie" Ashwini
Jahnu
Christa

Tervuren (Co-owned)
"Radha" Cantata
"Devi" Bhagavathi

Rescues
Kylie's Shambhavi Rose
Litters
Basquelaine 'A' of Intention Hill
'B' of Intention Hill
'C' of Intention Hill
'D' of Intention Hill
Intentions
Litter Plans
Healthcare & Research
Cancer (Artemisinin and Other Info)
Raw Feeding
Vaccinations
Early Spay & Neuter
Parasites & Remedies

Training
SAR Articles
Recommended Reading
Accomplished Belgians
Resources

Breeders of
Working Belgians
Groenendael
Tervuren
Malinois
Laeknois

©2016 Tracy Wessel
Intention Hill


Promote Your Page Too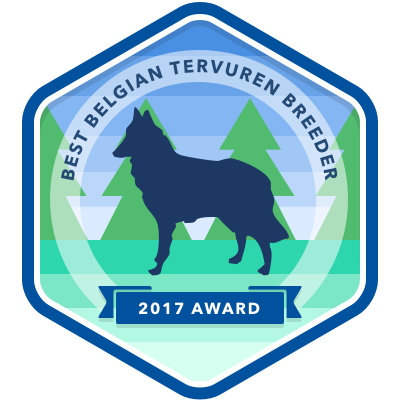 Website Award
Vetary has analyzed top Belgian Tervuren breeders and cross referenced positive social mention data with top analytics platforms. Your site was a clear winner with U.S. pet owners over the last 12 months. For context, Vetary awards breeders with best-in-class online buzz, content, visuals, and most importantly, a strong cause and devotion toward their breed of dogs.
"Chandra" Chandravathi of Intention Hill
Location: Shropshir, England, UK
Training: Conformation, SAR, Obedience
Owners: Liz Beaumont

Color: Grey (cream)
Weight: baby
Height:
AKC Number:
DOB: 10/29/2015
OFA:
CERF:
DENTITION: ?, scissors

Chandra is a lovely female from the C litter. She is pushy and resilient, has lovely drives and rewardable behaviors. She stayed with me extra time to prepare for her departure to the UK. Her owner, Liz, came to the USA to meet hte family, and all the dogs here at Intention Hill. Chandra has passed the initial requirements to participate in her SAR team training, which includes an obedience and aggression test. Liz's obedience instructor loves Chandra's potential, as did my instructor Barbara Gordon (Spokane, WA). This has inspired Liz to work towards obedience compeition. Chandra also goes to ringcraft classes (conformation handling).
You can find updates about Chandra on my Facebook Page for the C LItter, as well as here and on my home page which has a running News feed.
GCh Arlequin in Hot Pursuit
Ch Blackfyre Absolutely Wyld
Ch Arlequin Cajun Blackfyre
Ch Moorslede Golden Touch, CD NA CBAR
Ch Belamba Paramour
Ch Bonheurs Crime Spree CD HS NA CBAR
Opium Van De Hoge Laer at Corsini
Charbonny Hedda
Ch Bonheurs Crime Spree, CD HS NA CBAR
Ch Moorslede Golden Touch, CD NA CBAR
Ferry de la Douce Plaine
Whyalla Golden Sunset of Limburg
Ch Bonheur Wish Come True
Ch Bonheur Star Treader, CDX TD CBAR
Zahara Khasmin de Loup Noir
Basquelaine Aanandi of Intention Hill
Matti Deabei
Domburg Dressed to Impress at Talamo
Bergerac Blue Knight
Bergerac Sweet Talk
Anee Oridix
Oural de la Fureur du Crepuscule
Ottira de la Prairie de la Sommerau
Basquelaine Cat On The Scent, SAR
Ch Gaelera BigMtn Brennerain, SAR
Ch Bergerac Brigadoon, PT
Klaar Perfect Gaelera
Hexen House Iserah
Loucky de la Maison du Bois
Tchai van de Hoge Laer