Dogs
History and Standards
Available Dogs
Puppies
Health Records
Groenendael
Chittaprasad Jairam du Volant
Tervuren
Aanandi
"Pinkie" Ashwini
"Devi" Bhagavathi
Carmella
Dior
Dru
Gabbit
Jahnu
"Savannah"
Tervuren (Co-owned)
"Radha" Cantata
"Brodie" Bajrang
Christa

Rescues
Kylie's Shambhavi Rose
Litters
Basquelaine 'A' of Intention Hill
'B' of Intention Hill
'C' of Intention Hill
'D' of Intention Hill
'E' of Intention Hill
'F' of Intention Hill
Intentions
Litter Plans
Healthcare & Research
Cancer (Artemisinin and Other Info)
Raw Feeding
Vaccinations
Early Spay & Neuter
Parasites & Remedies

Training
SAR Articles
Recommended Reading
Accomplished Belgians
Resources

©2018 Tracy Wessel
Intention Hill


Promote Your Page Too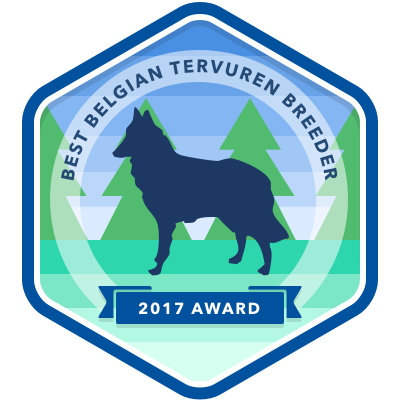 Website Award
Vetary has analyzed top Belgian Tervuren breeders and cross referenced positive social mention data with top analytics platforms. Your site was a clear winner with U.S. pet owners over the last 12 months. For context, Vetary awards breeders with best-in-class online buzz, content, visuals, and most importantly, a strong cause and devotion toward their breed of dogs.
Helpful Links & Resources
Products I keep in my Medicine Chest
Watch for the ads in the May issue of Dogs Naturally Magazine, where Aarti and Pinkie will star in an ad for Glacier Peak Holistics, via one of their baby photos. People often ask me what I keep in my K9 medicine cabinet. I keep my medicine cabinet stocked with these wonderful products.
Cuts, bruises and other ouchies - Inflapotion and Herbal Aspirin. The two products are different, and fulfill different roles, which can be combined. For example, Herbal Aspirin has some herbs for a mild sedative affect, which can be very important in injuries with higher levels of pain. Inflapotion is not just a remedy with anti-inflammatory properties - it is also blended with herbs to promote healing and knitting of tissue.
I also keep herbal salve, and have used this on the llamas and the dogs.
Peak Immune is a product to use during times of stress, including the change in seasons, before dog shows, shipping, etc. It is not a product for daily use, but is designed to support those periods where more support is needed. I have great success with Glacier Peak Holistics remedies. Click here to visit their website.
These 5 products are from
Glacier Peak Holistics.
Click here to visit Glacier Peak Holistics

Kroeger Herb products are
available in most natural food
stores, or can be ordered online through multiple distributors.

Harrys Original Anti-TickMosquitoFlea Spray

Harrys Original is a non-toxic and natural insect repellent for dogs (and their owners). The Spray was developed by German Heilpraktikerin Lilith C. Meurer out of sheer frustration, you can say: she was "ticked off about the ticks" crawling on her dogs after walking in the fields and forests of rural Germany. Using a combination of 9 different essential oils, she found a way to protect her dogs without the use of dangerous chemicals or systemic neurotoxins. All selected oils are researched for their health properties and proven effectiveness to keep a variety of insects away. All the used oils are 100% naturally sourced, many are certified organic and are of highest quality and freshness. The oil-mix provides a temporary "smell barrier" that is offensive to all sorts of insects, from ticks, mosquitoes, horse flies and even fleas. It is designed to be applied topically as a spray and works only where applied and short term. On long hikes you might need to reapply for the best effect.

Ingredients: 100% pure essential oils (Cedrus atlantica, Eucalyptus Citriodora, Pelargonium graveolens, Litsea cubeba, Citrus sinensis, Lavender angustifolia, Cymbopogon nardus, Mentha piperita, Azadirachata indica), Polisorbat20 (foodgrade, non-toxic emulsifier)

Click to visit Harry's Original on the web, or on Facebook.