Dogs
History and Standards
Available Dogs
Puppies
Health Records
Groenendael
Chittaprasad Jairam du Volant
Tervuren
"Savannah"
Gabbit
Aanandi
"Pinkie" Ashwini
Jahnu
Christa

Tervuren (Co-owned)
"Radha" Cantata
"Devi" Bhagavathi

Rescues
Kylie's Shambhavi Rose
Litters
Basquelaine 'A' of Intention Hill
'B' of Intention Hill
'C' of Intention Hill
'D' of Intention Hill
Intentions
Litter Plans
Healthcare & Research
Cancer (Artemisinin and Other Info)
Raw Feeding
Vaccinations
Early Spay & Neuter
Parasites & Remedies

Training
SAR Articles
Recommended Reading
Accomplished Belgians
Resources

Breeders of
Working Belgians
Groenendael
Tervuren
Malinois
Laeknois

©2016 Tracy Wessel
Intention Hill


Promote Your Page Too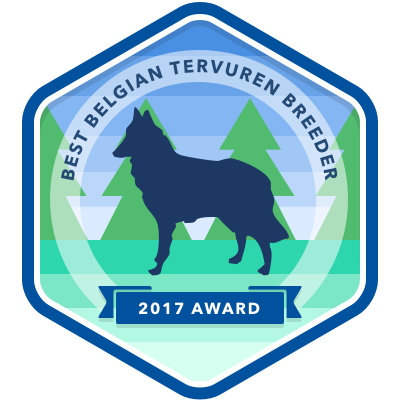 Website Award
Vetary has analyzed top Belgian Tervuren breeders and cross referenced positive social mention data with top analytics platforms. Your site was a clear winner with U.S. pet owners over the last 12 months. For context, Vetary awards breeders with best-in-class online buzz, content, visuals, and most importantly, a strong cause and devotion toward their breed of dogs.
Alternative Cancer Remedies (Articles, Links, Products)
Artemisinin Annua and other Remedies
In the late 90's or so, I learned of it. Artemisinin. Really I forgot about it after I learned it. A friend had a dog with osteosarcoma, and asked me to research holistic remedies. I found her information on the research of Dr. Cuoto at U of Ohio. I was only a few years later that I found a need to use it for my own dog. The protocol I followed was five days on, two days off, with the Artemisinin Annua served in a TBS of cottage cheese each evening. The information below is a compilation of articles and links to further information for the use of Artemisinin Annua in the treatment and prevention of cancers.
DISCLAIMER: This document overviews important information regarding alternative, holistic, or non-FDA approved remedies. This document is not meant to replace the recommendation of a veterinarian who has examined your dog. I am not a veterinarian.
Links
Brewer Sciense Laboratory, Artemisinin Update http://www.mwt.net/~drbrewer/FreeCanArtimisUpDate.htm
Case Summary of Artemisinin Use in Canines http://artemisinin-paula.jimdo.com/medizinplan-artemisinin-summary/
Chinese Herb for Bleeding Dog Cancers http://www.dogcancerblog.com/chinese-herb-for-bleeding-dog-cancers/
Cancer Smart Bomb Part 1 http://www.mwt.net/~drbrewer/canart1.htm
Cancer Smart Bomb Part 2 http://www.mwt.net/~drbrewer/canart2.htm
eBooks and PDF Articles
Natural Compounds in Cancer Therapy, by John Boik (PDF eBook download)
The Dog Cancer Survival Guide, by Dr. Demien Dressler, DVM (PDF eBook download)
List of Artemisnin Articles, Listerature and Research Reports(2005) (PDF eBook download)
Accomplishments
Red Girl: Aanandi
Owner(s): Tracy Wessel
Location: Montana & Oregon
Aspirations: HRD/Avalanche, IPO
Pink Girl: Ashwini
Owner(s): Tracy Wessel (For Sale)
Location: Montana & Oregon
Aspirations: Agility, Obedience, Evidence/HRD, Suitable for very active Companion Home
Purple Girl: Alluring "Lourdes"
Owner(s): Kelley Hoffman
Location: Ohio
Aspirations: Agility,IPO, Show, Breed
Aqua Boy: Amal "Mulder"
Owner(s): Marty & Harriet Collier, Tracy Wessel
Location: Montana
Super Companion, Ranch Hand, Harriet's Guardian
Green Girl: Abhithi
Owner(s): Tracy Wessel (For Sale)
Location: Montana & Oregon
Aspirations: Agiltiy, Herding
Orange Boy: Anuraag
Owner(s): Sandra Lafontaine & Tracy Wessel
Location: Montreal, Quebec, Canada

Aspirations: Agility, Obedience, Skijor,Frisbee, possibly Show, IPO, SAR

Accomplishments: CGN, RPN

Yellow Girl: Aarti
Owner(s): Tracy Wessel (For Sale)
Location: Montana & Oregon
Aspirations: SAR, IPO, or Pet Detection, suitable for very Active Companion home
Blue Boy: Amsterdam
Owner(s): Kelley Hoffman
Location: Ohio
Aspirations: Agility,IPO, Show, Breed