Dogs
History and Standards
Available Dogs
Puppies
Health Records
Groenendael
Chittaprasad Jairam du Volant
Tervuren
Aanandi
"Pinkie" Ashwini
"Devi" Bhagavathi
Carmella
Dior
Dru
Gabbit
Jahnu
"Savannah"
Tervuren (Co-owned)
"Radha" Cantata
"Brodie" Bajrang
Christa

Rescues
Kylie's Shambhavi Rose
Litters
Basquelaine 'A' of Intention Hill
'B' of Intention Hill
'C' of Intention Hill
'D' of Intention Hill
'E' of Intention Hill
'F' of Intention Hill
Intentions
Litter Plans
Healthcare & Research
Cancer (Artemisinin and Other Info)
Raw Feeding
Vaccinations
Early Spay & Neuter
Parasites & Remedies

Training
SAR Articles
Recommended Reading
Accomplished Belgians
Resources

©2018 Tracy Wessel
Intention Hill


Promote Your Page Too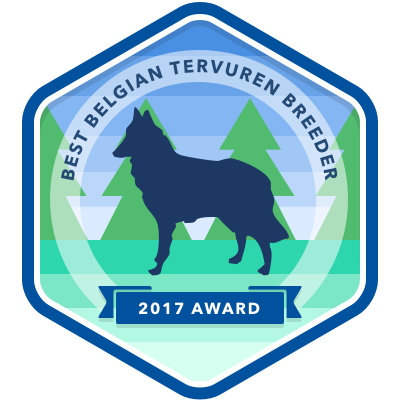 Website Award
Vetary has analyzed top Belgian Tervuren breeders and cross referenced positive social mention data with top analytics platforms. Your site was a clear winner with U.S. pet owners over the last 12 months. For context, Vetary awards breeders with best-in-class online buzz, content, visuals, and most importantly, a strong cause and devotion toward their breed of dogs.
"Radha"
Cantata A av Thargelion, RN, SAR-Trailing
Location: Washington and California
SAR Trailing (IPWDA Cert), Herding, Obedience
Co-owned with Tracy Wessel and Carina Tollefsen
Color: Red/Sable
Weight:
Height:
Norwegian KC Number: NO 38777/13
AKC Number: DN47265701
DOB: March 18, 2013
OFA: BT-6655E65F-VPI (Excellent Hips), BT-EL3825F65-VPI (Normal Elbows)
CERF: Normal 2015
Teeth: Missing two lower PM4, scissors bite

Radha is a great grandaughter of the highly accomplished Orsam de Salte Cabre, FR3 Fin., MR3 Sel. and daughter of (KORAD) INT N SE UCH N SE LCH N SE BCH NV'92 '94 '02 Chac Mool C av Nangijala - "Chac". Orsam has produced excellent working ability and stable temperaments to his offspring, as has Chac. I have dreamed of welcoming another Orsam descendent into my life, and hoped for one with the calm, confident and stable temperament so often described of him. To have a Tervuren offspring from both he and Chac is a true gift. Radha is shared with her breeder Carina Tollefsen.
Radha has been training in trailing for SAR since 2014, with numerous breaks for life events at the farm. She certified with the International Police Work Dog Association in November 2017. She also has been training in Rally and Obedience, and earned her RN in October of 2016. Radha is doing very well in herding training as well.
Radha is a soft dog, and wants to be perfect in her work. She does not challenge other dogs, and is very easy to live with. She is very affectionate, and open and friendly to all people. She has not shown any environmental sensitivities.
In her tracking work, she seemed to start slowly, as she seemed to need some maturity before having good focus and drive. But now she is exemplary, showing lovely forward drive, but a natural attention to detail. She tracks with collection and focus, and is deep nosed, however will air scent when appropriate. She is a very honest trailing dog, and very easy to read.
In obedience, one judged called her "the smiling Terv." That is Radha, always happy, always willing, and a real love bug. My obedience trainer calls her the "Golden Retriever." She really is a lovely character. But Radha is not without the appropriate guarding tendencies of a proper shepherd, and will alert me to strangers approaching the homestead or vehicle. WIthout fail, she has been a really lovely dog.
Radha is tall, as are several of Chac's daughters. She is built to be a perfect athlete, with lovely angulation, a ground covering stride, and a nice working coat. Her coat has average length, but does lack texture. She tolerates heat and cold well, and shows good stamina.
Our aspirations to breed Radha still hold true, pending her clearances. She will be bred in 2018 as fits her working and competition schedule. Radha has many fans, and advanced reservations are recommended.
About Orsam:
Fr.Ring III, selectif 2003 & 2004, Finalist 2003.
Mondioring III, selectif 2005, Finalist in september 2005
He was the first groenendael in 25 years to be present at the final of Ring.
"He is just extraordinary! Well balanced with a super social temperament, fantastic working abilities and very strong nerves." (Kristine B. Vinje, Kennel Nanduhria)
About Chac:
CAC, CACIB/CACIOB/CACIT in: Norwegian / Swedish show
Norwegian / Swedish Obedience-trials
Norwegian / Swedish working-trials
He have taken over 20 CC's. in search

Norwegian Working-Championship results:
1995: Nr 5. in search
1996: Nr 5. in search
1997: Nr 1. in search
1998: Nr 3. in search
1999: Nr 8. in search
2000: Nr. 2 in search
2001: Nr. 2 in search
2002: Nr. 4 in search
2002: Nr. 1 in Nordic Championship (at age 11,5 !)
Click here to view Cantata's full pedigree on Working-Dog.eu.