Dogs
History and Standards
Available Dogs
Puppies
Health Records
Groenendael
Chittaprasad Jairam du Volant
Tervuren
Aanandi
"Pinkie" Ashwini
"Devi" Bhagavathi
Carmella
Dior
Dru
Gabbit
Jahnu
"Savannah"
Tervuren (Co-owned)
"Radha" Cantata
"Brodie" Bajrang
Christa

Rescues
Kylie's Shambhavi Rose
Litters
Basquelaine 'A' of Intention Hill
'B' of Intention Hill
'C' of Intention Hill
'D' of Intention Hill
'E' of Intention Hill
'F' of Intention Hill
Intentions
Litter Plans
Healthcare & Research
Cancer (Artemisinin and Other Info)
Raw Feeding
Vaccinations
Early Spay & Neuter
Parasites & Remedies

Training
SAR Articles
Recommended Reading
Accomplished Belgians
Resources

©2018 Tracy Wessel
Intention Hill


Promote Your Page Too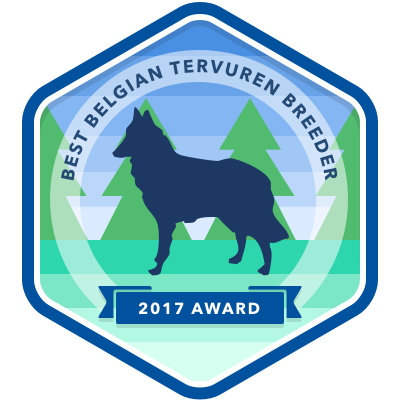 Website Award
Vetary has analyzed top Belgian Tervuren breeders and cross referenced positive social mention data with top analytics platforms. Your site was a clear winner with U.S. pet owners over the last 12 months. For context, Vetary awards breeders with best-in-class online buzz, content, visuals, and most importantly, a strong cause and devotion toward their breed of dogs.
"Thor"
Bashir of Intention Hill
Training: Companion, Agility
Location: Wyoming
Owner: Brad and Pam Waufle, Tracy Wessel

Color: Mahogany
Weight:
Height:
AKC Number: DN38296506
DOB: 10/02/13
OFA: BT-6303E30M-VPI (Hips, Excellent), BT-EL3488M30-VPI (Elbows, Normal), BT-EYE578/22M-VPI (Eyes, Normal)

Thor was my fun loving, high energy, acrobatic puppy from the B Litter. He was an easy choice for most any sport or working endeavor. Brad and Pam wanted a dog to try agility with, and so it was. He is deeply loyal to Brad by day, and the bed warmer by night. Thor has competed in several agility trials. He is a challenge in that he is very fast, and so for the first time handler, or any handler, distance handling and strategy are key.
Litter updates from the B of Intention Hill litter are posted here Facebook Page.
Click here to view her full pedigree on Working-Dog.eu.