Dogs
History and Standards
Available Dogs
Puppies
Health Records
Groenendael
Chittaprasad Jairam du Volant
Tervuren
Aanandi
"Pinkie" Ashwini
"Devi" Bhagavathi
Carmella
Dior
Dru
Gabbit
Jahnu
"Savannah"
Tervuren (Co-owned)
"Radha" Cantata
"Brodie" Bajrang
Christa

Rescues
Kylie's Shambhavi Rose
Litters
Basquelaine 'A' of Intention Hill
'B' of Intention Hill
'C' of Intention Hill
'D' of Intention Hill
'E' of Intention Hill
'F' of Intention Hill
Intentions
Litter Plans
Healthcare & Research
Cancer (Artemisinin and Other Info)
Raw Feeding
Vaccinations
Early Spay & Neuter
Parasites & Remedies

Training
SAR Articles
Recommended Reading
Accomplished Belgians
Resources

©2018 Tracy Wessel
Intention Hill


Promote Your Page Too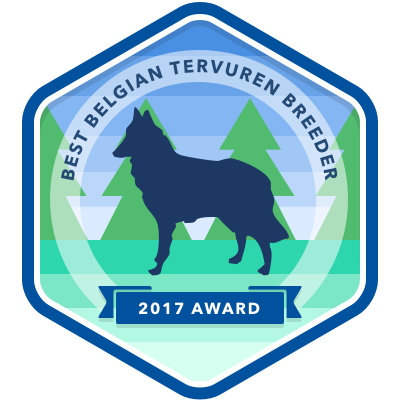 Website Award
Vetary has analyzed top Belgian Tervuren breeders and cross referenced positive social mention data with top analytics platforms. Your site was a clear winner with U.S. pet owners over the last 12 months. For context, Vetary awards breeders with best-in-class online buzz, content, visuals, and most importantly, a strong cause and devotion toward their breed of dogs.
"Freya"
Brietta of Intention Hill
Training: Pro level Disc Dog, some aglity training, companion
Location: Ohio
Owner: Zachary and Megan Carlson, Tracy Wessel

Color: Fawn
Weight:
Height:
AKC Number:
DOB: 10/02/13
OFA: Pending

Freya was a lovely, middle of the road sort of puppy, social and driven but not extreme in any trait. I chose her for Zachary because of his strong interest in performance sports. Freya was to be his first Tervuren, and his first dog since childhood. For his homework assignment, prior to any decision making, I had him meet with fellow Belgian enthusiast Bridget Telencio Hambrecht. Bridget gave Zachary good marks, and after I learned he played disc golf, Bridget got him to throw in a novice class for her Lava. Well the sport was a fit, and Belgians were a fit.Freya began Pro level competition in 2016 in disc dog events.
Freya has not finished out in an easy way. She was a bit much for a first timer for agility, a dog that requires distance handling skills out of the box, but the disc dog scene was perfect. Freya has also developed as fairly dog aggressive for Zach, but he has stuck by her, and worked with her through high prey drive with changes in the home enviorinment. He is a true dog owner, and perhaps anyone with a fainter heart would have returned her. A lot of dog, all of the puppies from this combination, but the owners have all been troopers and risen to the occassion.
Litter updates from the B of Intention Hill litter are posted here Facebook Page.
Click here to view her full pedigree on Working-Dog.eu.