Dogs
History and Standards
Available Dogs
Puppies
Health Records
Groenendael
Chittaprasad Jairam du Volant
Tervuren
Aanandi
"Pinkie" Ashwini
"Devi" Bhagavathi
Carmella
Dior
Dru
Gabbit
Jahnu
"Savannah"
Tervuren (Co-owned)
"Radha" Cantata
"Brodie" Bajrang
Christa

Rescues
Kylie's Shambhavi Rose
Litters
Basquelaine 'A' of Intention Hill
'B' of Intention Hill
'C' of Intention Hill
'D' of Intention Hill
'E' of Intention Hill
'F' of Intention Hill
Intentions
Litter Plans
Healthcare & Research
Cancer (Artemisinin and Other Info)
Raw Feeding
Vaccinations
Early Spay & Neuter
Parasites & Remedies

Training
SAR Articles
Recommended Reading
Accomplished Belgians
Resources

©2018 Tracy Wessel
Intention Hill


Promote Your Page Too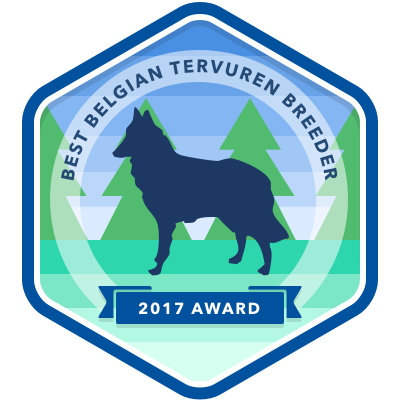 Website Award
Vetary has analyzed top Belgian Tervuren breeders and cross referenced positive social mention data with top analytics platforms. Your site was a clear winner with U.S. pet owners over the last 12 months. For context, Vetary awards breeders with best-in-class online buzz, content, visuals, and most importantly, a strong cause and devotion toward their breed of dogs.
Dominique of Intention Hill
Owners: Lesley Wolf, Tracy Wessel
Location: Alberta, Canada
Nica seemed to have an interesting beginning for me. She was delayed in her pigmentation for her nose and paw pads, but at 7 months, only had a small amount of area that still needed filling in, so I believe this will continue to fill in. She was the more gentle of the puppies, but also more reactive to things she wanted and couldn't have - like wanting to be out with the other dogs that were in the yard, since they take turns.Overall, she demonstrates a lovely balance of drives, but not with the same intensity of her to more driven sisters. After late cancellation of her initial home, she seemed to be the puppy that would remain at Intention Hill. She went through a shy puppy period, then emerged with confidence, and lovely social skills.And that is when her perfect home emerged.
Dominique now lives in Canada with artist Lesley Wolf. Lesley will explore different activities with Dominique, perhaps nosework or agility. Right now, they are enjoying field trips, continued socialization, and building on their new bond and home life.
Jahnu du Domaine de Vauroux
Ventadour de Condivicnum (ML)
Laouen de Condivicnum (TV)
Isar du Royaume de Bucksye
I'Kiss You de Condivicnum (TV)
Rama du Domaine de Vauroux (ML)
Lift de la Terre Aimée (ML)
Orange du Domaine de Vauroux (ML)
Glamour du Domaine de Vauroux (TV)
Dalton du Domaine de Vauroux (ML)
"Bob" Sabrefield A Class Act With Dealois (ML)
Utha de Valldigna (ML)
Ella du Domaine de Vauroux (ML)
"Bob" Sabrefield A Class Act With Dealois (ML)
Utha de Valldigna (ML)
"Savannah" Basquelaine Cat On The Scent, CGC, SAR
Ch Gaelera BigMtn Brennerain, SAR
Ch Bergerac Brigadoon, PT
Opium Van De Hoge Laer at Corsini
Bergerac Gentle Thoughts
Klaar Perfect Gaelera
Ch Perfect Of The Two CD
Ombre De La Quievre
Hexen House Iserah
Loucky de la Maison du Bois
Grimm Van De Hoge Laer
Hisis De La Maison Du Bois (GR)
Tchai van de Hoge Laer
Horry De La Clairiene Aux Louves
Kleo Van De Hoge Laer