Dogs
History and Standards
Available Dogs
Puppies
Health Records
Groenendael
Chittaprasad Jairam du Volant
Tervuren
"Savannah"
Gabbit
Aanandi
"Pinkie" Ashwini
Jahnu
Christa

Tervuren (Co-owned)
"Radha" Cantata
"Devi" Bhagavathi

Rescues
Kylie's Shambhavi Rose
Litters
Basquelaine 'A' of Intention Hill
'B' of Intention Hill
'C' of Intention Hill
'D' of Intention Hill
Intentions
Litter Plans
Healthcare & Research
Cancer (Artemisinin and Other Info)
Raw Feeding
Vaccinations
Early Spay & Neuter
Parasites & Remedies

Training
SAR Articles
Recommended Reading
Accomplished Belgians
Resources

Breeders of
Working Belgians
Groenendael
Tervuren
Malinois
Laeknois

©2016 Tracy Wessel
Intention Hill


Promote Your Page Too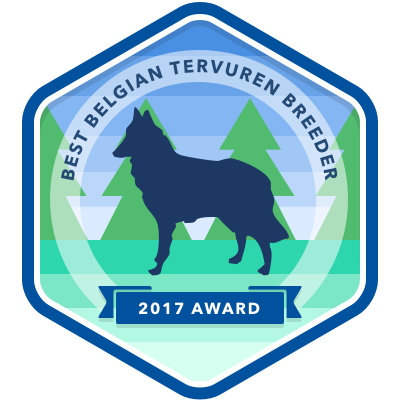 Website Award
Vetary has analyzed top Belgian Tervuren breeders and cross referenced positive social mention data with top analytics platforms. Your site was a clear winner with U.S. pet owners over the last 12 months. For context, Vetary awards breeders with best-in-class online buzz, content, visuals, and most importantly, a strong cause and devotion toward their breed of dogs.
Dulcibella of Intention Hill
Owners: Deborah & Gailon Gentry, Tracy Wessel
Location: Washington
Bella seemed the perfect and obvious choice for Deborah and Gailon's first Tervuren. They had experience with Siberian Huskies and Shepherds in the past. While Bella will be primarily a companion, they do also have interest in exploring sports with her. Bella has developed into absolutely the sweetest puppy I've ever encountered. She is affectionate, well mannered, focused and easily trained. She is attending foundation puppy classes, and also has a trainer that comes to their home to help out.
She is an innovative puppy, inventing her own games to play, such as dropping a ball down the stairs over and over. She's oddly taken a long time to have car rides without getting motion sick, but seems to be coming along.
Bella has been social to all people, including children. She is a prospect for showing and future breeding for Intention Hill.
Jahnu du Domaine de Vauroux
Ventadour de Condivicnum (ML)
Laouen de Condivicnum (TV)
Isar du Royaume de Bucksye
I'Kiss You de Condivicnum (TV)
Rama du Domaine de Vauroux (ML)
Lift de la Terre Aimée (ML)
Orange du Domaine de Vauroux (ML)
Glamour du Domaine de Vauroux (TV)
Dalton du Domaine de Vauroux (ML)
"Bob" Sabrefield A Class Act With Dealois (ML)
Utha de Valldigna (ML)
Ella du Domaine de Vauroux (ML)
"Bob" Sabrefield A Class Act With Dealois (ML)
Utha de Valldigna (ML)
"Savannah" Basquelaine Cat On The Scent, CGC, SAR
Ch Gaelera BigMtn Brennerain, SAR
Ch Bergerac Brigadoon, PT
Opium Van De Hoge Laer at Corsini
Bergerac Gentle Thoughts
Klaar Perfect Gaelera
Ch Perfect Of The Two CD
Ombre De La Quievre
Hexen House Iserah
Loucky de la Maison du Bois
Grimm Van De Hoge Laer
Hisis De La Maison Du Bois (GR)
Tchai van de Hoge Laer
Horry De La Clairiene Aux Louves
Kleo Van De Hoge Laer