News Feed
March 2018
Intention Hill is pleased to announce a new SAR Certification for March of 2018 for Daaruk of Intention Hill. "Ruk" completed his 40 acre night problem (as well as aggression and agility tests) back in November (on Thanksgiving) of 2017, and had to wait for safe weather for the subjects for his 160 acre day test . He also had to complete an obedience test. Well he's now completed these, so as of now, Daaruk of Intention Hill is a mission ready, certified SAR dog! This makes Savannah's fourth offspring to certify to Search and Rescue. I'm super proud of all my puppies, and really excited watching them all grow into great dogs.
December 2017
Intention Hill is pleased to once again announce a new SAR Certification. December 9-10, I certified my first water search dog. Carmella of Intention Hill, CGC, certified with the National Search Dog Alliance (NSDA). Carmella's primary task with this discipline is to search for drowning victims on open water. Her ongoing training will be with advanced problems, as well as developing her skills with land searches.
Carmella is from the D Litter of Intention Hill (GCH "Chase" Arlequin in Hot Pursuit x Basquelaine Aanandi of Intention Hill, whelped October 29, 2015).
November 2017
Intention Hill is pleased to announce the newest dogs certified to Search and Rescue through the International Police Work Dog Association (IPWDA) November 10-12.
Cantata A av Thargelion certified to SAR Trailing. Radha has been ready for more than a year, but we were not able to get her to a certification test. She completed her trail in about 20 minutes longer than it took the tracklayer to lay her trail. Her final route was nearly 2 miles long. The conditions were open prairie and wetlands with moments of significant wind and rain. The trail was aged just over six hours. I'm super proud of Radha, who works with great independence and honesty. She has great work ethic, and obedience to odor. It is an honor to be at the end of her leash. My deepest gratitude to Carina Marabile of Kennel Thargelion for this wonderful combination.
"Pinkie" Basquelaine Ashwini of Intention Hill, CGC, RA certified for Land HRD (Human Remains Detection). Pinkie is fairly new to this work for her age, but has shown a great desire to search and to please. We will continue to develop her skills and look for advanced certifications in the Spring. Pinkie is from the Basquelaine A of Intention Hill Litter (Matti Deabei x "Savannah" Basquelaine Cat On The Scent, SAR).
Dior of Intention Hill certified for Area Search, like her mother. She tested to the 40 acre test, and will test again in the Spring for 160 acres. Dior is also fairly early in her training development, and shows a fantastic natural ranging pattern, understands scent pools instinctively, and loves her subjects. Watching her work is bittersweet, as she often reminds me of her mother. Dior, along with her brother Daaruk, half sister Pinkie and half brother Brodie make four offspring from Savannah to be active in Search and Rescue. Dior and Daaruk are from the D of Intention Hill litter (Jahnu du Domaine de Vauroux x "Savannah" Basquelaine Cat On The Scent, SAR).
While we were there testing, we had the pleasure of seeing "Brodie" Bajrang of Intention Hill, SAR-W, who was there with his co-owners Gail and Aaron Collins. Brodie recertified to Area Search. Photos to come!
May 2017
Vetary Website Award: On behalf of Vetary.com, I want to congratulate you on the Best Belgian Tervuren Breeder Award. Vetary has analyzed top Belgian Tervuren breeders and cross referenced positive social mention data with top analytics platforms. Your site was a clear winner with U.S. pet owners over the last 12 months. For context, Vetary awards breeders with best-in-class online buzz, content, visuals, and most importantly, a strong cause and devotion toward their breed of dogs.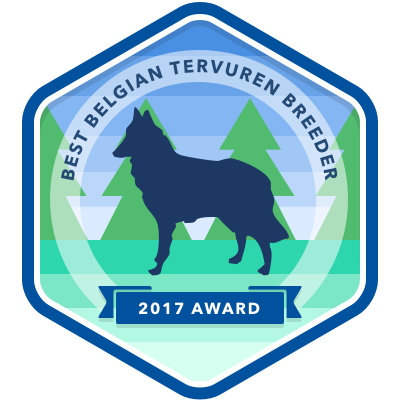 Special Guest: We have a nice visit with Divya Yuki of Intention Hill (Jahnu x Savannah) this month. She's come to visit for "Summer Camp" for a couple of weeks. Yuki has matured into a really lovely young lady. She is intelligent, focused, athletic, and very feminine. To see some of her Summer adventures, visit her album here, or the Intention Hill Facebook Page "Summer Adventures" album here.
April 2017
I was able to visit with "Brodie" from the B Litter of Intention Hill. Brodie is more formally known as Bajrang of Intention Hill, SAR-W. He was visiting with his co-owners in Idaho. We worked our dogs (I worked Savannah and Radha, and Gail worked Finn and Brodie), and I got in lots of photos. Brodie looks really nice, and is a dedicated working dog. I saw a lot of family resemblance to his grandsire Brenner, moreso than I've seen in other Savannah offspring. Here is a short clip of Brodie. Brodie has a nice photo album on the B Litter Facebook page. His album is here (click).
After we worked dogs, I had a nice play session with some of the Intention Hill dogs (Savannah, Gabbit, Radha and Dior. Here is a nice video from our day.
January 2017
We begin the new year with a new home lined up for Dior of Intention Hill. Dior will train in detection for either narcotics or firewarms, under the experienced and capable hands of Isabelle Sanche. Dior will be Isabelle's first Belgian. She currently has a GSD certified in narcotics, and a Border Collie certified in bed bug detection, both certified through WDDO. Current plans are that Dior will relocated to Canada in a few weeks.
I learned that "Radha" Cantata A av Thargelion, RN qualified for 2017 AKC Rally® National Championship Eligibility List, because of her high scores in her Rally Novice classes back in October. The requirements are for three scores over 90. The National Chanmpionship is held in Georgia in March. We do not expect to attend at this time, but it is lovely to see her name on this list. Radha and Pinkie are my first dogs I've competed in Rally or Obedience with.
December 2016
We close the year with a flurry of activities.
In December, Dominique (Lavender/Flower/Purple Girl of the D Litter) found her forever home. I had come to call her "the puppy that will not be placed." I was fully committed to keeping her, and found her to be an excellent companion, with closet drives - drives and proficiencies not immediately expected or apparent. She was an easy dog, except at feeding time, or in other times of heightened arousal, when she could be very vocal. Her first home cancelled, and she met two more prospects that weren't a fit for her or them... and then it happened. We met her perfect home. Sometimes things all just happen for the best. I'm so grateful they did. I adore her new family. Dominique went to Canada, and has barely skipped a beat. She lives about 45 minutes outside of Calgary, in Water Valley. She has her new people wrapped around her toes, and lives a lovely life.
In November we attempted the ASCT Level 2 Tracking with Radha. We wanted Level 3, but it was not made available. Level 2 is unique in that it is 2 miles in 45 minutes, 1 hour age. For a SAR test, this is a bit fast, as it means a very brisk walk, or light jog, to finish the trail without any problem areas. If there are problem areas, a fast pace is required to allow for working it out. So for the test, I practiced working Radha faster than I would for an actual search. We want our search dogs to be methodical. Previous experience dictates that over running your tracks in an aged SAR scenario is invitation to miss evidence and critical turns. In any case, Radha and I ran the first mile, and lost odor at the 1 mile mark, on top of a natural gas pipeline. We circled in widening circles, but did not reobtain odor. We are not certain if we will retest with this venue since (a) the test is not in keeping with SAR scenarios, and (b) the evaluator charged for time. We will retest with IPWDA, and one other appropriate venue in the Spring. Meanwhile Radha has become and exemplary tracking dog, with honest negatives, great obedience to odor, and lovely drives. She is very manageable, methodical, and detail oriented.
October 2016
"Pinkie" Basquelaine Ashwini of Intention Hill, CGC, RA earned her first leg of Novice Obedience at Columbia Basin Dog Training Club show at Tri-Cities.
"Radha" Cantata A av Thargelion, RN completed the requirements for earning her Rally Novice title.
"Devi" Bhagavathi of Intention Hill has returned to the farm as planned. Will decide if she will be available for placement with terms, or if she will remain here, over the coming weeks.
Five of the D Litter puppies have gone to new homes:
Devak Matisse (Green Boy) joined the Keezer family in Spokane, WA with intentions for agility, obedience, tracking, conformation
Dakari Simba (Sky Blue Boy) joined the Carando residence in Texas as primarily a companion and walk/jog partner. He however has inspired his owner to explore Ring Sports or other sports with his strong mind and drive. We'll see what these two can get into together.
Divya Yuki (Pink Girl) joined the Mitchell residence in Seattle. They have aspirations of doing agility and other sports, but her intensity has led them to also want to explore IPO. She is showing more intensity than either parent, an outcome that will happen with outcrosses, particularly when there are strong working dogs in the pedigree, as in this case.
Dulcibella (Yellow Girl) joined the Gentry family in Yakima, WA as a companion, and will be shown by me unless her family feels so inspired. They are exploring obedience and other activities with her. She's been extensively amusing for them, and has invented interesting games for herself, and has learned to bring in the daily newspaper for them.
Daaruk (Red Boy) has flown the coop to join Anne Clark in Virginia. She also has Daaruk's half uncle Hawkeye, who is SAR certified for tracking and area search. Daaruk will follow in his uncle's footsteps.
Still available are Dominique (active companion home), Dior (working/sport home only), and Dru (active companion with terms).
September 2016
Savannah had two certifications for SAR in 2016, one with NSDA in the Spring, just after concieving the D Litter, and IPWDA in September after the D's were primarily off to their new homes. I would expect her to not test again, as she'll be 11 years old when these certs expire. I will be delighted if she can work at that age, but I will probably move her to water search, as her body ages, so long as her nose works well.
Savannah recertified in Area Search and Basic Cadaver with IPWDA (International Police Working Dog Association), at 9 years of age. Savannah had her first certification in 2008 with OSSA (Oregon State Sheriff's Department), and again in 2010 with OSSA. She had her first IPWDA certification in 2009. SAR Certs are generally good for two years. Savannah has had multiple SAR deployments in Oregon and Wasington.
June 2016
Updates made to health charts. Charts will be consolidated this year, as having multiple charts is too difficult to maintain. Also OFA data will not be logged on this site for non-Intention Hill litters, since this data is available to the public on the OFA website. Health records for Intention Hill litters will now be logged here.
The D Litter of Intention Hill is growing up nicely. They had their first field trip on June 5, which was also their 5 week birthday. Photos are on the D Litter Facebook page, in this album (click here).
On June 4th, I took Christa and Carmella to practice herding, along with Jahnu. Normally I take Radha and Gabbit, but wanted to take advantage of Christa's visit. Here are some videos of the two girls...
Carmella
May 2016
"Pinkie" Basquelaine Ashwini of Intention Hill, CGC, RA completed the requirements for her Rally Advanced Title.
Christa of Intention Hill came back to the farm for a month for a visit, while her owner has surgery and recovers from that. I took advantage of this time and took her to the Spokane Kennel Club show - After hanging out for two days to acclimate to the show environment, I showed her on May 29th. She earned WB/BOS for 2 points. Show photo to come!
"Freyja" Benazir of Intention Hill was diagnosed with Pannus and Corneal Dystrophy. It is early stage, and not vision affecting at this time. She will be treated with Optimmune at this time. It is always disappointing for both owner and breeder when a dog is not in perfect health. All dog owners are encouraged to have annual eye exams performed on their dogs. Freyja is from the B Litter of Intention Hill (Gabbit x Savannah).
Jahnu will travel to the ABTC National Specialty! Since I have the D Litter on the ground, I do not know if I will be able to fly out to show him. He will ride with fellow breeder and friend, Karyn Cowdrey, who will also show him if I cannot join them in Nebraska.
The D Litter of Intention Hill is born! The began arriving just after midnight, on May 1, 2016, and are listed below by ribbon color:
12:12am PDT male, 13.25 oz Green
12:46am PDT female, 14.5 oz Pink
2:02am PDT female, 12.15 oz Lavender (might change to flowers)
3:50am PDT female 12.75 oz Gold
4:26am PDT male 15.5 oz Blue Polka Dot
4:39am PDT male 13.4 oz Light Blue / Seafoam
5:15am PDT male 13.65 oz Red
6:??am PDT female 11.8 oz Yellow
April 2016
April was a month of goodbyes for me. Abhithi went to her new home in Wyoming, where she's settled in nicely. Abhithi is from the Basquelaine A of Intention Hill Litter (Matti x Savannah). Abhithi might train in agility, but her primary role is to be Pam's sidekick in all things.
Chandravathi of Intention Hill crossed the pond to Shropshire England, where she will train in SAR, obedience and tracking, and might show in conformation some. Chandra is from the C Litter of Intention Hill.
Gabbit began treatment for pannus. His previous CERF exam showed either arrested pannus, or early stage pannus. He is on Inflapotion, Optimmune and Neo-Poly-Dex. I will collect him, but it is unknown if he will ever be used at stud again based on the character outcomes of his offspring, his pannus, and the unfortunate health outcomes of his sire's littermates.
Savannah certified in Area Search with Large Source Cadaver with NSDA (National Search Dog Alliance).
March 2016
Jahnu's OFA preliminary xrays came back - HIPS EXCELLENT, ELBOWS NORMAL!
Radha turned 3 years old on 3/18/2016 - For her birthday, she did some tracking at both the community college and in the state park.
The latest view of Radha! Radha joined Jahnu at herding class on Saturday. This was the only time she'd been on sheep since the Lynn Leach clinic back in October, and really only her 2nd outing other than the few times she helped with chores before going to Lynn. She did spectacular! She also is working exceptional in her SAR training for trailing. VIdeos are not available for SAR training at this time. To learn more about Radha, visit her page!
February 2016
D Litter plans are now in motion.
It is sooner than hoped, as I have never had litters close together, but in this case, the mother is at her last year of availability, so it will be. Savannah is to be bred this month. Her intended is Jahnu, pending preliminary xrays of his hips and elbows. Normally I would not choose to use such a young male, but in this case, I have confidence in the consistent outcomes for health and character from his family, and there is no opportunity to wait until he is older.
Also Abhithi has been spayed, and will join Brad and Pam Waufle in Wyoming. She will share their home with "Thor" Bashir of Intention Hill. It is possible that she will join Thor in training for agility. But mostly, I expect her to be Pam's heart and soul, and to sit with her for long hours of weaving, and join her for games of fetch by the pond. I will deliver her in a couple weeks, and then visit them a couple weeks later to see how things are going.
January 2016
Introducing our C Litter (Chase x Aanandi):
Cygnus at Intention Hill
Cygnus now resides with Tracy and Glen Harris in Anacortes, WA. He is training for a career in obedience, agility and conformation, and hopefully herding. Here is a short video of him from just before he left for his new home:
Christa at Intention Hill
Christa now resides with Harriet Collier in Libby, MT, along with her "Uncle Mulder" Basquelaine Amal of Intention Hill (Matti x Savannah). She is shared with them for potential future breeding, and will be shown by me in conformation, and possibly some herding trials. Below is a video of Christa at a herding instinct test.
Chandravathi at Intention Hill
Chandra will reside in Shropshire, England at GooseCreek Kennels with Liz Beaumont. There she will train in Search and Rescue, and the working dog program. She will be shown in conformation, and possibly train in herding. There is also the hope and expectation that one day a puppy will come back to me from Chandra. Below is a video of Chandra at a herding instinct test.
Carmella at Intention Hill
Carmella will remain at Intention Hill. She is very much like her mother and grandmother in character, and shows excellent drives and athleticism. She has shown excellent focus on some puppy tracks. Below is a video of Carmella at a herding instinct test.
October 2015 - News
Welcome to the C Litter!
Happy birthday and welcome to the C Litter of Intention Hill.
#1 Grey Girl, 5:01am Pacific Time, 12.6 oz, Red Ribbon
#2 Red Girl, 6:17am Pacific Time, 12.8 oz, Purple Ribbon
#3 Grey male, 7:51am Pacific Time, 14.3 oz, Light Blue Ribbon
#4 Red Girl, 8:20am Pacific Time, 11.4 oz, Coral Pink Ribbon
Proud mamma is Basquelaine Aanandi of Intention Hill (AKC Ptd).
Proud pappa is "Chase" GCH CH Arlequin in Hot Pursuit, bred by Betsy Keating (Arlequin Belgians) and Alleyne Dickens (Bonheur Belgians).
Semen offered by Karyn Cowdrey (Blackfyre Belgians) and Glenda Fick.
I'm so grateful for this opportunity, and very blessed with four really robust and beautiful puppies.
The C Litter has their own Facebook Page here.
Herding!
October 11th, I took four dogs to work with Lynn Leach. I first worked with her last year, with Savannah. I find her to be the most effective herding instructor, trainer and clinician I've worked with. With Lynn, my dogs respond immediately, and the process is gentle and intuitive. For this visit, I decided to have Lynn work three youngsters for me, so I could video and learn. I worked Gabbit myself, so I have no video of his work. All the dogs worked really nicely.
This is Rhussia (Basquelaine Moscow Rules)
This is Radha (Cantata A av Thargelion)
And this is Jahnu (Jahnu du Domaine de Vauroux)
C Litter!
Aanandi is confirmed in whelp, with puppies due October 27. I'm very excited about this combination. In this pedigree are some long lived, healthy dogs, and some nice proof of working drives for herding, SAR and agility. In addition to Aanandi's family of SAR and sports dogs, Chase has some high accolades behind him: His great grandfather Treader sired one of our first SAR Tervuren in the USA, Mary Theriot's Red. Additionally, Treader sired the first dog of any breed to complete the requirements for a herding championship with AKC. Chase himself has sired the lovely Flyer, who has in turn sired multiple MACH and obedience titled dogs. Top that off with numerous conformation accolades, and this is a really exciting package. Ultrasound reveals at least 5 puppies. This may mean the litter is fully reserved, but we shall see!
Agility News!
"Freyja" Benazir of Intention Hill began agility training with flying colors. She may continue with IPO, but her club moved two hours away, so this is not particularly conducive to continuing. She also helps put poultry away at night, and is a service dog.
"Thor" Bashir of Intention Hill competed in his first ever agility trial. He ran in Jumpers 1 (Intro) obtaining 2 legs with 2 first place finishes! Thor also has become a ranch dog, and puts the neighbors sheep into the barn each night.
August 2015 - News
LITTER PLANS!!! - Basquelaine Aanandi of Intention Hill was bred to Arlequin In Hot Pursuit via frozen semen on August 29, 2015. More news when pregnancy is confirmed by ultrasound.

First Major for Jahnu - Jahnu du Domaine de Vauroux earns Winners Dog at the Evergreen Belgian Tervuren Regional Specialty for a 4pt Major on Saturday, August 21.

RWB for Savannah - "Savannah" Basquelaine Cat On The Scent, CGC, SAR went RWB at the Evergreen Belgian Tervuren Regional Specialty on Saturday, August 21. Savannah also still trains for area search in SAR.

Latest Videos of "Freya" Brietta (green girl from Beez litter)

Rally Advanced Legs for Pinkie - "Pinkie" Basquelaine Ashwini of Intention Hill, CGC, RN earned two legs towards her RA title at the Evergreen Belgian Tervuren Regional Specialty Aug 20-21.

Rally Novice Legs for Radha - "Radha" Cantata A av Thargelion earned a leg towards her RN title at the Evergreen Belgian Tervuren Regional Specialty Aug 20. Radha also trains in trailing for SAR.
Fresh video of "Freya" Brietta of Intention Hill, who will compete at the Pro level next year, with her owner/handler Zachary.
May 2015 - News
First Major for Savannah - "Savannah" Basquelaine Cat On The Scent, CGC, SAR earned her first major and 3 points at the Spokane/CDL shows May 22-24th.

First Rally Title for Pinkie & Me - "Pinkie" Basquelaine Ashwini of Intention Hill, CGC, RN earned her Rally Novice title in two trials, starting with Spokane and Couer d' Alene shows in May 22-24th.

New CGC for:

"Savannah" Basquelaine Cat On The Scent, SAR

"Pinkie" Basquelaine Ashwini of Intention Hill


"Abhithi" Basquelaine Abhithi of Intention Hill
I was going through some old video, and realized I'd never shared these two lovely video's of "Makani" Bhanavi of Intention Hill in agility class. Her family is doing so wonderful with her, their first dog!
April 2015 - News

"Freya" Brietta of Intention Hill, eyes normal (CAER exam, formerly called CERF)
Savannah is getting ready for her recertification in wilderness area search, after 4 years away. She is expected to test in May 2015.

Abhithi is training for SAR, and doing fantastic. She shares her mother's vest while she learns. She should be able to test this Summer, in wilderness area search.

New advertisement for Animal Wellness magazine, featuring "Novak" Anuraag
March 2015 - News

Watch for the ads in the May issue of Dogs Naturally Magazine, where Aarti and Pinkie will star in an ad for Glacier Peak Holistics, via one of their baby photos. People often ask me what I keep in my K9 medicine cabinet. I keep my medicine cabinet stocked with these wonderful products.
Cuts, bruises and other ouchies - Inflapotion and Herbal Aspirin. The two products are different, and fulfill different roles, which can be combined. For example, Herbal Aspirin has some herbs for a mild sedative affect, which can be very important in injuries with higher levels of pain. Inflapotion is not just a remedy with anti-inflammatory properties - it is also blended with herbs to promote healing and knitting of tissue.
I also keep herbal salve, and have used this on the llamas and the dogs.
Peak Immune is a product to use during times of stress, including the change in seasons, before dog shows, shipping, etc. It is not a product for daily use, but is designed to support those periods where more support is needed. I have great success with Glacier Peak Holistics remedies. Click here to visit their website.
Brodie (from the B Litter) has his Search and Rescue career off to a great start, and with some notoriety. He had a find this month. SAR dogs can go their entire career without a find, because it is the nature of our deployments to help narrow down a search area, and rule out areas of lower probability. So not having finds doesn't mean a dog and handler are not working hard - but when there is a find, it is a wonderful affirmation to our training and efforts, and the capabilities of the dogs. It also brings closure to families, in unfortunate and sad cases, and saves lives in other cases. Here is Brodie on the day of his first find.
Abhithi has been doing fantastic in her area search training. She's much like her mother. I hope she proves to have the same great work ethic, enduran ce, and love of searching. I'm so impressed with her. I attribute it to both genetics and maturity.
Also "Radha" Cantata A av Thargelion is working on her foundation for SAR trailing.
January 2015 - News
Please welcome to Intention Hill - Jahnu du Domaine de Varoux. Jahnu comes from France, and breeder Evy Monnereau. Jahnu comes with the intention of bringing strong, stable character, and a calmer general demeanor into the family, without losing drive and focus. His pedigree is 75% French Malinois lines, and 25% French Tervuren lines. Within his family, there have been both show dogs, ring sport dogs, companions and sporting dogs. Already he shows great promise for herding.

Jahnu du Domaine de Varoux (FR Import)
DOB: October 15, 2014
Ventadour de Condivicnum x Glamour du Domaine de Vauroux
Bred by Evy Monnereau
December 2014 - News
"Savannah" Basquelaine Cat On The Scent, SAR proved that a strong foundation makes for a strong house. She returned to SAR training after nearly 4 years away. She remembered all her foundation behaviors. Though she needs some polishing on her indication, and she remembered all the rules, and showed her intense happiness to be looking for the lost.
The next wonderful event was to start a young dog to follow in Savannah's footsteps. I have started her daughter Abhithi for Area Search.
I have started "Radha" Cantata A av Thargelion in trailing.
November 30, 2014 - News
"Brodie" Bajrang of Intention Hill, aka "Mr. Big" was successful in his first SAR test, and is now certified for Area Search with Lake County SAR in Oregon. Congratulations and many thanks to his owner/handler Gail Collins, who also recertified her other Belgian Tervuren, Finn, on this same day. Brodie is the Aqua Boy from the B Litter of Intention Hill. You can see more about Brodie and his siblings on the B Litter Facebook Page, or on the litter page on this site.
November 1, 2014 - News
"Freyja"Benazir of Intention Hill competed in her first Dock Diving event, earning her first title of Dock Novice (DN). Congratulations and many thanks to Emmie Lieberman on her first competetive event with her first Belgian Tervuren. Freyja is the Pink Girl from the B Litter of Intention Hill. You can see more about Freyja and her siblings on the B Litter Facebook Page, or on the litter page on this site.
October 16-19, 2014 National Canine Health Symposium
A fantastic opportunity for those that can attend, Dr. Pitcairn will be presenting, among many others. Dr. Pitcairn was an early promoter of raw feeding, alternative (or vaccine free) protocols, and the treatments of disease with homeopathy in dogs.
September 1, 2014 - News
"Novak" DDCh Basquelaine Anuraag of Intention Hill, HIT, CGN, RN, BDD competed again, earning himself two new titles (DDACh (Distance Advanced, 1000 pts) and ADD. He is now "Novak DDACh Basquelaine Anuraag of Intention Hill, CGN, HIT, RN, ADD
August 2014 - News
Gabbit makes the morning and evening news. We participated in the morning news cast for Channel 6 KHQ in Spokane, to promote the Spokane Disc Dogs Skyhoundz event at Mirabeau Point Park (in conjunction with the Camaro Club Open Auto Show). We also were giving some airtime to announce the trial on 8/13 at Shadle Park. As to the trial, my throwing for the Mirabeau Point Park trial was appalling.
The KHQ spot is here: www.khq.com/clip/10456939/spokane-dogs-compete-for-the-fetch
"Freya" Brietta of Intention Hill brings home some loot at her 2nd Disc Dog Trial, August 2014 (Distance and Accuracy, Bullseye, Spot Landing and Time Trial). Congratulations and thank you to Zachary Carlson with his success in competition with his first dog since childhood, and his first Beglian Tervuren. Freya is the Green Girl from the B Litter of Intention Hill. You can see more about Freya and her siblings on the B Litter Facebook Page, or on the litter page on this site.
July 2014 - News
A few new photos of the B Litter were posted, and some news...
"Novak" DDCh Basquelaine Anuraag of Intention Hill, HIT, CGN, RN, BDD returns to competition. His injury will be an ongoing problem, however he will continue in Distance and Accuracy Disc Dog classes, and will resume obediene competition. It's fair to say he will not be able to compete in herding or agility, nor participate in bikejor/skijor. He now lives farther into the country, and has a pool, which has helped with his progress immensely.
Some new photos of some of the A's, Gabbit and Radha were posted to Facebook.
Most of the Intention Hill Fleeces have been sold, however I have obtained a number of outside fleeces and have been offering these for sale. Still remaining are a couple of Shetland fleeces, some alpaca and llama fleeces, and some dog fleeces.
June 2014 - First Disc Dog Trial for Gabbit, Jai and Savannah
Gabbit wins his first Disc Dog Trial! He won by 1/2 point in Distance and Accuracy with 22 other dogs in competition.
June 2014 - B Litter Updates
New photos and videos of the B of Intention Hill Litter (aka Beez)
"Freyja" Benazir of Intention Hill (Pink Girl), first try at dock diving. Freyja trains in IPO in Northern California.

"Thor" Bashir of Intention Hill (Orange Boy), after his obedience class graduation. Thor is now training in agility.

"Makani" Bhanavi of Intention Hill (Yellow Girl), training in agility. Makani has graduated from two puppy classes, and lives with her family in Southern California. She has her own two teenagers and a family cat

"Makani" Bhanavi of Intention Hill (Yellow Girl) showing a self-taught behavior - interesting because her sire Gabbit also tends to do this on fetches

May 27 - Litter Plans - C of Intention Hill
As my waiting list begins to fill, I am formulating my plans for the C Litter of Intention Hill. This will be for either Autumn of 2014, or Spring of 2015. Stud TBD. Dam will be Savannah. She will be eight years old next Spring, and probably spayed after her litter leaves for their new homes. I'm looking at several studs which will continues the delightful working qualities, handler focus, and love for life that Savannah and her offspring bring to us.
May 27 - Fresh Photos and Videos of the Beez
Some fantastic photo and video updates of the Beez! In no particular order...
"Brodie" Bajrang of Intention Hill (Aqua Boy) - who weighs in at 53 lbs already! (Training in SAR)

"Brodie" Bajrang, SAR training, May 2014 (7 months)

"Thor" Bajrang, SAR training, 7 months, May 2014
"Freya" Brietta of Intention Hill (Green Girl) (training in agility and disc dog)

First practice match with disc dog league

"Freya" Brietta (Green Girl), 7 months old, May 2014
"Makani" Bhanavi of Intention Hill (Yellow Girl) (training in agility)

"Makani" Bhanavi, 7 months old, May 2014 (sea gull gazing)
"Freyja" Benazir of Intention Hill (Pink Girl) (training in IPO)

"Freyja" Benazir - Pink Girl - 7 months old, May 2014

"Freyja" Benazir with Mario Verslyp, January 2014
"Thor" Bashir of Intention Hill (Orange Boy) (training in agility and obedience)

"Thor" Bashir, 7 months, May 2014

"Thor" Bashir, 7 months, May 2014
May 24-26, 2014 - Conformation Show in Spokane and Coeur d'Alene
Aanandi and Savannah had an outing with me this past weekend. Aanandi showed three days, and earned RWB one day. Savannah goofed off like a two year old. But I did not mind :D
May 15, 2014 - Sheep Shearing
Shearing for 2014 has been completed. I will be posting the fleeces for sale on the Intention Hill FB page, Ravelry and some of the FB pages for raw fleeces. I will post prepared bats or rovings on Etsy (Intention Hill) as I make them. Some mill processed roving and yarn may be available. Fleeces are CVM and Coopworth types, primarily. I have an additional two fleeces which are very fine Cormo (20-23 micron as measured from the seller previous years), and a Cormo-Cotswold cross. These there white fleeces are buttery soft, but not coated. They will need combing and carding to clean VM out, as will most of my other fleeces.
I added three new sheep to the wool flock: a Cormo ram, and two wethers. One of the wethers is Cormo, the other is Cormo-Cotswold. Each year I will sell a percentage of fleeces, and retain a percentage for processing, which I enjoy.
God willing, next year's fleeces will be coated.
May 2014 - Relocation
Intention Hill has relocated to Washington - no more grizzly bears.
May 2014 - Admitting When a Career is Over
This past Autumn, it was with such a sad heart that I heard the news of "Novak" Anuraag's career ending injury. True there are some surgeries (TPO) and perhaps some contemporary therapies which could be attempted at a veterinary school or in his home, but at great expense without assurances of full recovery for competition. And so my sweet Anuraag, with home I held so much hope, and in home I saw so much light, will compete no more. He had a fall, and chipped his knee, and damaged the ligament. It has been very stressful for his owner and for me, and I am very sad. But he is a happy boy, and he still lives up to his name, which after all, means "love" and not "sports champion.".
April 7, 2014 - Happy Birthday to the Basquelaine Super Sleuths Litter
Happy Birthday to my "Savannah" Basquelaine Cat On The Scent, SAR. Savannah is 7 years young today. Her mother Serah will be 14 on April 30. Savannah was certified to SAR in 2008, 2009 and 2010. She is dam of two litters (Matti Deabei x Savannah, 2011, 3/5) and (Gabbit Elmar Slovakia x Savannah, 2013, 2/4). Savannah is my sweet sidekick, and the cat's meow around here. She's always ready to work, and simply a delight to live with. She passes on her strong character, and handler attentiveness to her offspring.
March 18, 2014 - Happy FIRST Birthday to the A av Thargelion Litter
Happy FIRST Birthday to my "Radha" and her siblings from the A av Thargelion litter. Radha is formally known as Cantata A av Thargelion. She has one Tervuren sibling and six Groendendael siblings. Her siblings in Europe will now begin obtaining their health clearances. Radha is shared with me by her breeder Carina Tollefsen.
February 7, 2014 - Farming
Farming is never easy, but it is a lifestyle which can be very wholesome and fulfilling. Today I had to send one of my flock guardians over the bridge. Buttons, the female llama that I got from AllMosta Ranch rescue fell on January 18th. It was clear then that she was quite ill, and had been for some time. Because she and Zipper free range, joining the sheep for grazing, and sleeping in the forest beyond the ram pen, it was not often I would have close interaction with them. Buttons struggled with skin problems which began before her arrival. I would treat patches of bald thick skin, and the hair would grow back, only to see other patches erupt. Once she fell, it was clear she was weak. She was thin, but not emaciated. I put her in the night pen, and treated her with Ivermectin, PennG and then Fenbendazol. The vet came out and took blood samples and skin scrapings but found nothing conclusive except for a high WBC. We put her on NuFlor. However from Sunday through today, she did not stand. By yesterday, it seemed only one of her hind legs was working. She did not even spit at me when I gave her the injections yesterday. She must have been struggling to try to stand because she turned herself to face the opposite direction, and dug a large hole beneat her in the snow. By this morning, she could no longer eat, and just lay there shivering. She seemed only vaguely aware of her surroundings. I ended her suffering as we do for most farm animals, and then sheared out her barrel. Two local cowboys came and took her body away. Zipper sang softly as she was carried away. We visited and I fed him. He is now living full time with the rams, where he has no conflicts with the LGD. I am very sad to lose a llama. They are mysterious and gentle creatures, who seem to always whisper great threads of wisdom. God Speed Buttons.
December 13, 2013 The Flying Beez
"Devi" Bhagavathi (Red Girl) and "Freya" Breitta (Green Girl) flew to Ohio together. Freya joins Zachary and Megan Carlson and their 3 ferrets and 1 cat as a new family member outside the Cleveland area. Zachary is an avid hiker and outdoorsman, and plays frisbee golf. He has aspirations of training Freya in agility and disc dog, and perhaps herding. Devi is retained by Intention Hill in co-ownership with a trusted friend. She will spend time with extended Basquelaine family, and may return to Intention Hill for showing or performance endeavors in the future. "Thor" Bashir (Orange Boy) flew to Denver, and joins the family of Brad and Pam Waufle in Wyoming. He will be their new ranch hand, guardian and best friend. Brad has aspirations to train Thor in herding, obedience and agility.
And so we have an empty nest at Intention Hill, and prepare for a season of skijor and possibly sledding.
December 11, 2013 Basquelaine Aarti of Intention Hill
Aarti traveled finally, after a long wait, to her new home in Long Island with the Noon family.
December 8, 2013 The Traveling Beez
"Brodie" Bajrang of Intention Hill (Aqua Boy), "Freyja" Benazir of Intention Hill (Pink Girl) and Bhanavi of Intention Hill had baths and manicures on Saturday December 7, then loaded up in the truck with myself and their mother Savannah. We drove icey, wintery roads to Spokane Washington, where we met with Gail Collins of Southern Oregon, who now owns "Brodie" Bajrang. Gail and her husband took the Three Traveling Beez with them, an d after an overnight visit with family, headed home to Southern Oregon with a 10 hour drive. They had several stops for play time along the beautiful Salmon River, and enjoyed their visit with the Collins family. The following morning, braving Wintery road conditions, Gail met with Emmie Lieberman of Northern California, and exchanged "Freyja" Benazir and Bhanavi. The two girls went home with Emmie, with still slow driving conditions, and enjoyed play time in the snow there. They met her Great Pyrenees flock guardian, some of the flock members (poultry) and her Doberman named Quinn. The following morning, they had the last leg of their journey, as Emmie met with Naomi Ryono of Southern California to pass off Bhanavi to Naomi and her daughter Elle. They Ryono ladies took their new bundle of blessing on home with a full day of driving. Thus ended the journey of the Traveling Beez.
"Brodie" Bajrang joins Lake County SAR and California Oregon Regional SAR as Gail's up and coming SAR dog. He will share her home with Gail's other Tervuren Finn of Sky Acres breeding.
"Freyja" Benazir joins Emmie for IPO training, and will begin in the most auspicious way with a seminar slot with Mario Verslype in January. Mario has fantastic foundation principles for starting puppies in IPO. He himself handled"Freyja" Benazir's great great grandfather Stoned van Duvetorre, Stoned's son Hasco, and a 2nd generation down from Stoned in Usca. All three dogs were world championship participants in IPO.
Bhanavi joins the Ryono family in Southern California as their first Belgian, and they have interest in exploring nosework, agility and possibly herding.
December 4, 2013 Sending off the Beez
The Bumble Beez will begin their journeys to their new homes on Sunday. Some of their activities outdoors have been limited by bitter cold temeratures here in Montana - 2 degrees this morning, and it's expected to grow colder! Red Girl remains unconfirmed in her placement. Contact me if interested.
Gabbit Elmar Slovakia x Basquelaine Cat On The Scent, SAR
born October 2, 2013

Puppy

Testicles

Teeth/bite

Owner/Location

Intentions

Red Girl (Bhagavathi)

n/a bitch

scissors
Intention Hill et al
retained in co-ownership

Pink Girl (Benazir)

n/a bitch

scissors
Emmie/California
IPO

Aqua Boy (Bajrang)

2

scissors
Gail/Oregon
SAR

Green Girl (Brietta)

n/a bitch

scissors
Zachary/Ohio
Discdog, Agility, Herding

Orange Boy (Bashir)

2

scissors
Brad & Pam/Wyoming
Obedience, Agility, Herding

Yellow Girl (Bhanavi)

n/a bitch

scissors
Ryono Family/California
Obedience, Agility, Nosework
November 2, 2013 Growing up the Beez
The B of Intention Hill Litter, affectionately referred to as "The Beez" have new photo albums for each week of their lives!
Week 1 Photo Album click here
Week 2 Photo Album click here
Week 3 Photo Album click here
Week 4 Photo Album click here
They also have a new blog entry today
October 2, 2013 B Litter is born!
The B of Intention Hill Litter is born! This was a mating between my Slovakian import Gabbit Elmar Slovakia and my SAR bitch Basquelaine Cat On The Scent "Savannah." Puppies have been reserved for Search and Rescue, IPO/schutzhund, agility/disc dog, herding and PPD. Standby reservations are being accepted, in the event one or two puppies don't fit the requirements of the buyers. Puppies are suitable for Search and Rescue, Conservation Detection, Narcotics/Explosives/Contraband Detection, Service (not for mobility assistance), Ranch Work, Sports, Personal Protection and very active companion homes. Puppies will have intense toy drives and strong handler focus. Prey drive is expected to be moderate with self-control if conditioned for primary focus on toys. The puppies have their own Facebook Page!
August 26, 2013 OFA Results
Gabbit Elmar Slovakia (ICh Prot Deabei, IPOIII x Karla z Polytanu, LE)
born June 12, 2011

Testicles

BAER

CERF

Hips

Elbows

Teeth

Notes

2

+/+
Normal 2012, 2013

Good

BT-5879G25M-VPI

Normal

BT-EL3096M25-VPI

Full dentition, scissors
sable, mild parvo @ 6 months, full recovery
UKC Ch. Matti Deabei x Basquelaine Cat On The Scent, SAR cert.
born June 19, 2011

Puppy

Testicles

BAER

CERF

Hips

Elbows

Teeth

Notes

Red Girl (Aanandi)

n/a bitch

+/+
Normal/Clear
Good
BT-5877G24F-VPI
Normal
BT-EL3094F24-VPI
Full dentition, scissors
sable, mild parvo @ 6 months, full recovery

Pink Girl (Ashwini)

n/a bitch

+/+

Normal/Clear

Excellent
BT-5881E24F-VPI

Normal
BT-EL3098F24-VPI

Full dentition, scissors

mahogany, parvo @ 6 months, full recovery

Purple Girl (Alluring)

n/a bitch

+/+

Full dentition, scissors

sable, fx left femur

Aqua Boy (Amal)

2

+/+
Normal
BT-EYE87/21M-VPI

Good
BT-5873G25M-VPI
Normal
BT-EL3090M25-VPI

Full dentition, scissors

sable

Green Girl (Abhithi)

n/a bitch

+/+

Normal/Clear

Good
BT-5876G24F-VPI*
Normal
BT-EL3093F24-VPI*

Full dentition, scissors

mahogany, parvo @ 6 months, full recovery

Orange Boy (Anuraag)

2

+/+
*Optioned with possible dystrophy in both eyes 1/2012, 7/2012 Dx with Pannus, both eyes.

Full dentition, scissors

sable,
Small break or malformation in tail, no affectation

Yellow Girl (Aarti)

n/a bitch

+/+

Normal/Clear

Prelim Good to Excellent

Excellent
BT-5880E24F

Normal
BT-EL3097F24-VPI

Full dentition, scissors

mahogany, Soft tissue injury to back and pelvis, 12 weeks, parvo @ 6 months, full recovery

Blue Boy (Amsterdam)

2

+/+

Full dentition, scissors

sable
July 28, 2013 "Novak" DDCh Basquelaine Anuraag of Intention Hill, CGN, HIT, RN, BDD
Day 2 of Frisbee Regionals, 3rd place(67 pts) and 1st place overall at CDDA Regional Championships Quebec!
July 27, 2013 "Novak" DDCh Basquelaine Anuraag of Intention Hill, CGN, HIT, RN, BDD
Day 1 of Frisbee Regionals, 2nd place (62 pts), Earned DDCh
June 27, 2013 Intention Hill welcomes Cantata A av Thargelion!
Amid the worry with Jai, we welcome a new gift of great potential. Cantata A av Thargelion will be share with her breeder Carina Tollefsen of Kennel Thargelion in Norway. My gratitude to Carina for agreeing to share her with me, and to Jannett Anson for acting as consignee in Seattle, and Corey Goyer in assisting with the final travel arrangements. Read more about Cantata here.
June 22, 2013 Tragedy strikes for Jairam
Just after midnight, Jairam had what appeared to be a grand mal seizure. I am devestated and deeply worried for him. I will give more details after medical tests. Jai has been training in narcotics and protection, after deciding I would not return to SAR with him in Montana. He is proficient on marijuana and heroin, and performing vehicle and building searches in training.
June 19, 2013 Happy 2nd Birthday to the A Litter!
It's so hard to believe they are TWO years old already! Happy Happiest Birthday to the A Litter, and in order of appearance:
Aanandi: Earned RWB at ABTC 2013 National Specialty in Portland
"Pinkie" Ashwini made her first attempt at Rally Novice A at ABTC 2013 National Specialty in Portland
"Lourdes" Alluring recovered nicely from her broken femur
"Mulder" Amal now goes on trail rides w/ his horses/ family,and assist w/ medicating shy wolves at his ranch
Abhithi 3rd in Bred By at ABTC 2013 National Specialty in Portland and started in foundation agility
"Novak" Anuraag, CGN, HIC, BDD, DDX and a Q in agility, and now exploring IPO as a possibility
Aarti recovered from back injury and will be going to a new home this Summer... she is my Zen Princess
"Vallon" Amsterdam is now described as a carbon copy of his mother in behavior
Happy Birthday to my Savannah babies, and great thanks to owners and fans!

June 18, 2013 Wonderful Video of Jai's aunt Bejaydunia
Jai's aunt Bejaydunia (Disco's sister) performing at Suisse Nationale 2012 at 10 years of age.
June12, Hppy Birthday to Gabbit!
Happy Birthday to Gabbit and his siblings! TWO years old! Gabbit has been getting foundation training in narcotics, and working on socializing and playing in novel environments. He's also begun to tend grazes with the sheep, and is started on frisbee retrieves in hopes of competing in frisbee at some point. Over 2012, he did some light skijoring with Jai, and proved to have fantastic work ethic. He will begin tracking training also if he does not continue in narcotics. Since Jai is doing so well in narcotics, I don't know if I will train another dog on it until later when he begins to age out. However Gabbit can work on obedience and tracking aspects for IPO. There is no IPO club here right now, so we will have to settle with that.
May 25-30, 2013 ABTC National Specialty, Portland, Oregon
May 25-26, Savannah competed in her first herding trial at the ABTC National Specialty. It was my first since Kylie passed away, and a long time really for me. Savannah must take after her sire in levels of offensiveness to crook direction. After attending a seminar with Larry Painter when she was quite young, Savannah decided that if a crook would be tossed at her, sh ewould not herd. But she was fairly amped up before her run, so I took a crook in "just in case." She "sort of" worked. She covered her stock a couple times, but then let them run down field in the PT course. They went back to the draw. I should have just dropped my crook, but hindsight being 20/20... Well so I retired on course. On day 2, I worked with no crook. I had to be in her face a few times, she was putting too much pressure on the sheep. This caused a couple splits, which sent her chasing after. She didn't do any grips, but I ran after her anyway, preferring not to have a single chased. She returned the single to the group, and on we went. She did some nice covers, which were helped by me starting the motion for her, and squaring my shoulders to the sheep. There was one point where the sheep balled up in the corner, and one dropped it's nose to her, which eliceted a perfect head from her. The judge liked it. We'll try to get ready for the July ASCA trial here in Montana.
May 28 Pinkie and I had a delightful lesson with Julie Flannery (www.rallyfree.com). I learned so much in our short session. Would be so nice to be living back there in Oregon and near her. I really appreciate trainers that will work with you where you are, and without judgement.
May 29th Pinkie and I both made our debut to Rally Novice A at the ABTC National Specialty(Portland). Though she was charming with all people, Pinkie was too nervous to perform. We practiced in the hallway, but once in the ring, I got a cute Terv walking beside me and only did one finish front. She wouldn't perform any other moves. It's okay though she showed her lovely attentiveness, and we will keep practicing and going places. We'll try obedience at Home Depot and there is an obedience class starting up locally that we will join.
May 30th, Abhithi, Aanandi and Savannah were entered in Conformation (ABTC National Specialty, Regular Classes). Savannah went 2nd in American Bred, Abhithi was 3rd (last) in Bred By Exhibhitor, and Aanandi was 2nd in Amateur Owner Handler. Then.... Aanandi went Reserve Winners Bitch for the ABTC National Specialty and a 3pt major :D I was moved to tears. I was so happy. She showed like she belongs in the ring. It was her first time. And I've only shown a few times. I'm not a good handler really, but I love to be with my dogs. It was an amazing experience! We are looking forward to showing again, perhaps at Centralia in July. More pictures to come!
May 20, 2013
"Novak" Anuraag earned his BDD (Basic Disc Dog) title at St-Lazare. He earned 6th place and 1st place in consecutive runs.
May 12, 2013
"Novak" Anuraag earned his first qualifying score and 1st place in agility in the Standard Jumpers class, 22" at Club d'agilité de Montréal. Here is his qualifying run (video).
January 6, 2013
A new title for Anu!!! "Novak" Basquelaine Anuraag of Intention Hill earns his DDX title today with a 2nd place 50pt finish. First time with an indoor trial and seemed very happy to be back at it.
December 3, 2012
RIP Unia d'Ajelpajo, granddam of my Jai. I've just learned from Jai's breeder that the world famous Unia passed on at 16 1/2 years old. She was still running in agility at 14 years old, and survived her daughter (from her only litter) "Disco" Baikadunia (Jai's mother) who passed away earlier this year to Hermangiosarcoma! Unia's other offspring continue, as I understand it, including Brittadunia (USA), Bejaydunia recently at 10 1/2 yo won the Swiss Championship in August in agility, Bogeydunia still running agility in the Netherlands, and Jazzydunia with Guy Blanke (Unia's owner) running agility. Unia's only litter was to Ch Megaspirits' All for One (Athos).
October 31, 2012
A new ram for Intention Hill for the Blackbelly Flock. I traded one of the juvenile BB rams with Five "R" Stockdogs/Sagebrush Meats for this three year old. He has a good attitude. His horns do not curl wide, as mine do, and I would like more length of back, but he has good legs and good color. We're overdue for a fresh BB ram here. So for next breeding, including the two BB ewes that currently have lambs on the ground, I expect to put FiveR to service.
October 31, 2012
"Jai" Chittaprasad Jairam du Volant begins Patrol/Protection training for security work.
October 14, 2012
"Novak" Anuraag completes his Rally Novice title in Canada at the Canadian Collie & Sheltand Sheepdog Association Trial.
September 29, 2012
Aarti, Abhithi and I visited with "Mulder" Amal (aka Aqua Boy) for the afternoon. We headed over to the lake for a swim, and play. I posted some photos here.
September 16, 2012
Another BRAG from the A litter!!! "Novak" Basquelaine Anuraag of Intention Hill, aka Prince Anu, competed in his first Rally Obedience trial at Club Canin Chomedev. He got 95% for 2nd place in his first run, and 98% for 1st place in his second run! Visit "Novak's page here. There are videos of his runs, and his complete "Performance Resume."
September 3, 2012
Another BRAG from the A litter!!! "Novak" Basquelaine Anuraag of Intention Hill, aka Prince Anu, won 1st place in BOTH runs at his frisbee trial today, with a scores of 65 pts and 55 pts. Comments from the judge include "Novak is a dog who can be in the numbers ones in Canada!" Our Prince Anu needs one more leg to complete his BDD title. He's currently at 271 pts, and needs a total of 300pts to complete the DDX title. Visit "Novak's page here.
August 12, 2012
A BRAG from the A litter!!! "Novak" Basquelaine Anuraag of Intention Hill, aka Prince Anu, won 1st place in the first leg of his frisbee trial today, with a score of 71 pts. He earned 2nd place in the second leg with a score of 53pts. He is now Basquelaine Anuraag of Intention Hill, CGN, HIT, DD. Anu's grandmother "Hupy" is also a frisbee queen. Grandma breeder Beata says she's very proud, and so am I! Some photos and a video of his first session here.
July 27, 2012
Some sad health updates for the A litte or relatives of the A'sr:
Orange Boy "Anu" was diagnosed with Pannus, at 1 year of age (07/27/2012)
Muko Deabei (brother to Matti Deabei, sire of the A's) to cancer (small intestine) at 6 years of age.
Minea Deabei (sister to Matti Deabei, sire of the A's) produced one offspring with idiopathic epilepsy (Dx 1/2012, euthanized 3/2012).
July 3, 2012
I helped my old girl Kylie pass over the bridge today. Her necropsy revealed peritonitis caused by a perforation to the small intestine, the latter caused by cancer. A primary tumor was found on her pancreas. I made a photo montage of her here and wrote more about her on her page.
June 30, 2012
Novak competed in his first Frisbee Trial today! Sandra Lafontaine reports that Novak did well at his first frisbee trial. She said it was windy and hard to throw straight, and she had to head to work right after her runs, so doesn't know the results yet. "But im VERY proud of him - good behavior good focus hes just awesome to bring to canine events."
Bravo to both of them, and really wishing that Sandra's throat would stop hurting. Novak, also called Anu, is more formally known as Basquelaine Anuraag of Intention Hill, CGN, RPT, HIT. Sandra, sent to me by Kelley Hoffman, was interested in one of Anu's sisters, but after I watched her working Vega, I had a strong sense that Anu was her dog. It's been a match made in heaven, they are just in love.
I sent him to her at six months of age, a difficult age to travel alone on a plane for a young Belgian boy, but he has really blossomed with Sandra and her community of dog friends. Novak/Anu is from the Basquelaine 'A' of Intention Hill litter by UKC Ch Matti Deabei out of my SAR Cert bitch "Savannah" Basquelaine Cat On The Scent (who is torturing the boys in her standing heat as we speak), bred by Kelley Hoffman and me.
Here are two video links to Anu's runs at the trial: First Run | Second Run
June 19, 2012
I wish a very happy birthday to my first litter! It seems impossible that one year ago today, the A's were born! It was Father's Day, and they began just after midnight, arriving about every half hour, but for the last two, which barely had a moment between them. Four of the puppies went on to new homes, and four are still with me. I have jobs to begin training them in, though I will still consider sending two of them on to the right performance or working home.
Basquelaine Anuraag of Intention Hill "Novak" or "Anu" is in Montreal, training in agility, herding, frisbee and rally. I expect great success at whatever endeavors Sandra seeks to do with him.
Basquelaine Amal of Intention Hill "Mulder" is in a companion home on a ranch in Montana. He is to accompany his mistress on trail rides, and help alert the homesteaders to intrusion and predation. He provides them many hours of entertainment.
Basquelaine Alluring of Intention Hill "Lourdes" is with Kelley Hoffman of Basquelaine, and will be part of Kelley's ongoing breeding program. Lourdes broke her leg and has a plate on that femur. She might not have the opportunity to show. She is adored by Kelley and Rick, and also now known as Princess.
Basquelaine Amsterdam of Intention Hill "Vallon" is also with Kelley Hoffman of Basquelaine, and will be part of Kelley's ongoing breeding program. Vallon may have opportunities to participate in showing, agility, tracking or IPO as Kelley or a nearby handler can accomodate, but he will do her proud regardless.
Basquelaine Ashwini of Intention Hill "Pinkie" is with me, and will be training for freestyle and rally, under the online video tutelage of Julie Flannery. She will also be training for Conservation Detection with a new partnership I am part of in the Pacific Northwest. We are working on deciding our first odor, and will begin. Pinkie is suitable for Search and Rescue, agility and possibly herding (ducks certainly, lighter sheep yes, cows no), and could be available for such a home.
Basquelaine Aarti of Intention Hillis with me, and will also be training for detection. We are still contemplating what this will be, as she is very detail oriented like Pinkie, but also has a nice deep nose. It will either be Conservation Detection, or trailing for pet finding, or both really. I hope to also show Aarti in conformation. She says she might like to try herding. Aarti loves swimming, and is a much calmer brand of energy than her siblings, though she is happy to be active all day, as opposed to short bursts of energy. She is nicely tolerant of heat. She is suitable for Search and Rescue, Tracking and Obedience. With her calm and affectionate demeanor, Aarti could also participate in therapy or reading for children programs, but as an active dog with lots of drive, she must also have a good exercise program. I see no residual symptoms from her previous back injury at this time.
Basquelaine Abhithi of Intention Hill is with me, and will be training in agility. I will have online structure and coaching from Marla Friedler, and have practice sessions locally while we are in Montana. Once we move back to Washington or Oregon, we will inroll in some local activities. If opportunity presents, I'd like her to go to Marla for training and handling. At some point, I will also work Abhithi in herding. She has a lot of drive in a very small package. Abhithi is a fairly sharp bitch, very dominant, extremely athletic. She is an extreme swimmer, and I hope, a future dock diving participant. I may train her for Area Search over the next year as a back up to Savannah.
Basquelaine Aanandi of Intention Hill is with me. I have not decided what I will do with her. I really want to work her in avalanche on Mount Hood, and participate in the ski patrol there, but of course, our move is undetermined at this time. She could also participate in the Conservation Detection program. With her current coat, which could be very different as her adult coat comes in, I don't find her as heat tolerant for conservation work in Summer environments, nor Wilderness SAR in warmer months. Once we move, I'd like to try her for IPO. She has come off her bite somewhat, but I expet she'll go back one as she passes through this phase of hormones. I may also work her in herding for trialing. Aanandi is very biddable, though independent, and a deep thinker. She is very social and loves all people. I look forward to showing her in conformation as well.
June 8, 2012
Novak had a special and exciting day! He and Sandra Lafontaine participated in the filming of an episode of Animo, a pet-focused weekly television show in Canada. Novak and Sandra practiced Frisbee for this episode, which takes a look at dog sports. Sandra reports that Novak was a star, friendly with the film crew and other participating dogs. She says she learned some new frisbee techniques to boot, from Martin Daunais. Filming lasted about 3 hours, and we'll let you know when the episode airs! Such a wonderful opportunity for both of them! Upcoming episodes can be viewed here: http://www.tou.tv/animo. The show's official website is here http://www.radio-canada.ca/emissions/animo/2012/. Visit them on Facebook for, hopefully, some sneak previews https://www.facebook.com/AnimoRC! Novak was of course, the Orange Boy from the A Litter. He is more formally known as Basquelaine Anuraag of Intention HIll, bred by Kelley Hoffman and me, and co-owned by Sandra Lafontaine and me. For more about this litter, clicke here.
Also June 8, 2012
I am sad to learn of the passing of Jairam's mother, "Disco" Ch Baikadunia, AX, AXJ, STDs, MAD, MS, MA, CGC. "DIsco" died of hermangiosarcoma at the age of 10. She produced 19 offspring, and has 26 grandget on the ground as well. Her offspring have been healthy to date with exception of one puppy with epilepsy. Disco gave an intensity of energy and enthusiasm to her offspring. She was highly social and silly, intense in prey drive and athleticism, and seemed to be an eternal puppy herself. RIP Disco. May you find the flock you can really herd there in heaven. Kisses for you. Disco (DN02643101, 5/11/02) was bred by Guy Blancke, by Ch. Megaspirit's All For One x Unia d' Aielpaje. She was owned by Chris & Ryan Libs. Her mother Unja still lives at 16 years of age, in Belgium. I have written more about my memory of Disco here.
April 3, 2012
Eva's lambs are on the way. She's been uncomfortable all evening. She wanted to lamb in the woods, which is cleaner, but with the fox about, and lions, coyotes and wolves, I made her come into the barn. Eva is 1/2 Shetland x 1/4 Rabouillet 1/4 Polypay. More about this here.
March 28, 2012
Predation begins, signaling Spring. One lamb lost to Raven attack. Neighbors dogs killed by lion, and another by wolf. More about this here.
March 23-24, 2012
Basquelaine A of Intention Hill Litter CERF Clear/Normal (Aanandi, Aarti, Abhithi, Aswhini, Mulder)
Basquelaine Cat On The Scent "Savannah" CERF Clear/Normal
Chiitaprasad Jairam du Volant CERF Normal
Gabbit Elmar Slovakia CERF Normal
March 22, 2012
Aarti spinal xrays reveal normal spine with no fractures, preliminary hip xrays confirm good to excellent hips, pelvis still not fused, no signs of panosteitis - gorgeous healthy bones. Confirms soft tissue injury, which has been steadily healing with Percussive Realignment from Deb Gwynn of Glacier Peak Holistics, plus the addition of MSM, Vitamin C and Inflapotion.
March 9, 2012
New photos of the puppies at home, with two cute series "Study on Tennis Ball" (Pinkie) and "Reflections of a Tennis Ball" (Abhithi), 8 months old: Photos here.
February 18-20, 2012
This weekend, Gabbit, Abhithi and Savannah practiced skijor with just a collar line, running beside Jairam. For Gabbit and Abhithi, this was their first time. Neither one had any reaction to the skis nor the sound of the skis when I snow plowed :P Abhithi kept jumping over my skies, cirling me... without fear! Liveing up to her name. Here is some video of their first attempts: Gabbit with Jai
February 17, 2012
I am saddened by the loss of a great Groenendael, FR 3 MR 3 Orsam de Salte Cabre, FR3, MR3. Orsam was the first Groenendael in 25 years to be present at the final of the ring ( Fr.Ring III, Selectif 2003 & 2004, Finalist 2003, Mondioring III, Selectif 2005, Finalist in september 2005). I am privileged to have one of his sons, Chittaprasad Jairam du Volant "Jai" (SAR), and to have connected with others with his progeny so I may follow their progress in life. He left us February 17th, at 14 years of age. RIP and my condolences to André Dugast. http://www.working-dog.eu/dogs-details/6950/Orsam-de-Salte-Cabre
February 4, 2012
New photos of Gabbit and Aarti at Lake Kookanoosa-MT, 7 months old: Photos here.
January 29, 2012
New photos of "Mulder" (Amal), Abhithi and Aanand, 7 months oldi: Photos here.
January 1, 2012 - Happy New Year!
New photos of the puppies posted on Facebook A Litter page. I also created a Facebook page just for Intention Hill, as my own personal profile was getting so full of photos.
December 31, 2012 - Lambing Season Began!
Last season, we lost two lambs early Spring, causing two ewes to be on a different lambing schedule for 2012. The first ewe had her lamb trampled in a feeding frenzy over the daily mash. This year, ewes are staying in the night pen for three days, The LGD also prevent the previous frenzy over the mash. The second early loss last year was due to fox predation. The remaining ewes should lamb in February.
December 10, 2011
Exciting announcement from Kennel Deabei, from which we have the sire of the A Litter (Matti Deabei) and the sire of Gabbit (Prot Deabei). Prot will be bred to Minea Deabei, Matti's sister, for a 2012 litter. We will follow this litter with great interest, as it may be predictive of future aspirations for Gabbit and the girls from the A Litter.
December 6th
The remaining four A Litter puppies and Gabbit contracted Parvo after Pinkie visited Petco on the 3rd. All puppies have made a full recovery. Gabbit and Aanandi were not very sick, Gabbit had mild inappetance and diarrhea for a week, Aanandi had inappentance, bloody diarrhea and a little vomiting, but only for two days, then she was bouncing off the walls again. Pinkie took 5-6 days to recover, with her primary issue being inappetance. She had soem diarrhea and vomiting, but mostly she had no action. She got fluids for 1/2 day, IV. Abhithi needed about 5 days of IV fluids, during the day,and I brought her home each night for holistic treatment. Aarti was the sickest, but still maintained her energy to go potty at the litter, or to vary her sleeping spots. She took about two weeks. All puppies have made a full recovery, with the only long term affect expected to be lifetime immunity.
December 4th
Anuraag flies to his new home in Quebec City - Montreal. He is now called "Novak" and will train in agility, obedience, herding and skijor. He is now co-owned with Sandra Lafontaine and Tracy Wessel.
All puppies in the litter passed their BAER testing with hearing in both ears (+/+).
September 3, 2011
Aqua Boy is now Basquelaine Amal of Intention Hill "Mulder" - now with Marty & Harriet Collier of Libby, MT
August 30, 2011
Purple Girl is now Basquelaine Alluring of Intention Hill "Lourdes" - now in residence with Basquelaine
Blue Boy is now Basquelaine Amsterdam of Intention Hill "Vallon" - now in residence with Basquelaine
Red Girl is now Basquelaine Aanandi of Intention Hill - will remain with Intention Hill
August 2011
Welcome to Gabbit Elmar Slovakia (Ich.Prot Deabei, IPO2 x CAC, R.CACIB Karla z Polytanu), bred by Juraj Paulovič, Slovakia
Prot trains in IPO with owner/breeder Beata Stybrova in the Chzech Republic. Karla is with the Slovakian Police with owner/handler Juraj Paulovič. Gabbit will train in narcotics detection and protection, and team with Jairam for skijor when he is old enough.
June 11, 2011
Prot Deabe (Sire of Gabbit) with breeder/owner/handler Beata Štýbrová - IPO3 (77/87/82) Prot Deabei executed exam IPO3 today. Helpers Martin Plecháček and Tomáš Taubner. "Points are not selective, but they are good enough and due to the strict arbitration I appreciate them. The exam left me feeling good from hard work and enjoyment of training. Prot worked for me and it was great. I love my dog! I love Prot :o)"